The Chemical Brothers release "Theme for Velodrome" – official song for Olympic cycling events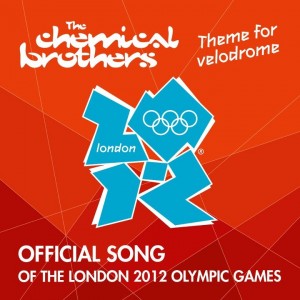 Details have been revealed of the The Chemical Brothers' official song for the sports presentation programme of the London 2012 Olympic Games. 'Velodrome' by The Chemical Brothers will be released July 30th, available for pre-order on iTunes now.
(Please note: U.S. release details to follow shortly).
itms://itunes.apple.com/us/album/theme-for-velodrome-single/id544350000?ls=1&ign-mscache=1
'Velodrome' by Chemical Brothers was composed specially for the Olympic Track Cycling events in the Velodrome.
When approached to write the official theme music for the Track Cycling events in the Velodrome, Tom Rowlands and Ed Simons had two initial considerations: firstly there was the long and fascinating history of the sport, and secondly there was Tom's own personal interest in cycling. Embracing this response they set about creating something that would reflect "the sense of speed, pace and drama," of the sport as well as the "incredible beauty" (Ed Simons Q Magazine interview), of the new London 2012 Velodrome's architecture.
The result is 'Velodrome', a thrilling, world-class track that will provide the soundtrack to six action packed days of competitive Track Cycling over the course of which 10 Olympic gold medals will be won.
Tom says, "I have loved cycling since I was a boy. I have always made a connection between electronic music and cycling repetition, the freedom and sense of movement. Kraftwerk obviously cemented this connection with their 'Tour de France' track. For us to create the theme for the Velodrome is a great honour and we're really excited to hear it in situ."
Stay connected for more news soon from The House Of Chemicals….
EK
NYC Chemical Bunker
Visit the official site: www.thechemicalbrothers.com
Follow us on twitter: @ChemBros
Source: http://www.facebook.com/notes/the-chemical-brothers/the-chemical-brothers-velodrome-to-be-released-on-july-30th/10150976735388358