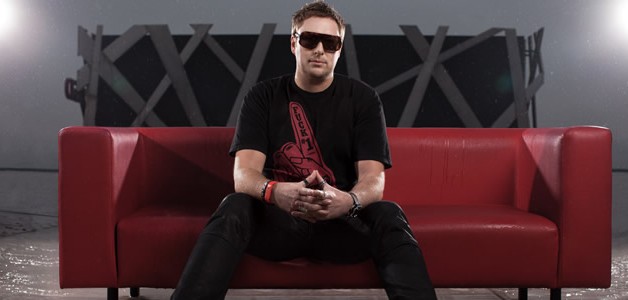 UMEK starting his second overseas tour with 2 million supporters on Facebook
After an extremely successful South and North American tour UMEK is back in the US for yet another lecture of proper techno and tech-house. With 11 dates in only two weeks, this will be one of UMEK's most intense tours of this year with appearances in Miami's Mansion, New York's Pacha, Vegas's EDC and Ottawa's Escapade Music Festival to mention just a few.
This year's Vegas show will be a special one for the Slovenian techno giant, since EDC promoter decided to feature some of the biggest techno acts on the mainstage, so UMEK will perform next to Carl Cox in front of a massive crowd on an already sold-out festival. Although he's getting more and more recognition among party-goers with his Facebook fan figure breaking the 2 million mark, UMEK still likes to emphasize that he's staying loyal to his creative direction, regardless of the stage's size, but at the same time tries to please the crowd: »I like to perform in front of big audiences that are not necessarily there for music that I promote. That's an honor, a creative challenge and a big responsibility at the same time. Not every deejay gets the chance to present a bit more vanguard, alternative, underground music on the stage reserved for major hit-makers and it's really important to face this kind of challenges in a way that you don't compromise your own legacy and at the same time adapt a bit to the taste of the crowd in a way that people get rather intrigued with your sound than bored.«
Check all UMEK's tour dates at www.umek.si/en/dates and please send your interview and press pass requests to press@umek.si as soon as possible.
Upcoming UMEK gigs:
13. June 2013 / Mansion / Miami, FL / United States
14. June 2013 / Martini Republic / Tampa / United States
15. June 2013 / Pacha / New York / United States
21. June 2013 / Babilonia Club / Mexico City / Mexico
22. June 2013 / Public Works / San Francisco, CA / United States
23. June 2013 / Electric Daisy Carnival / Las Vegas, NV / United States
24. June 2013 / Marquee / Las Vegas / United States
28. June 2013 / Rumor / Philadelphia / United States
29. June 2013 / Escapade Music Festival / Ottawa / Canada
30. June 2013 / Digital Dreams / Toronto / Canada
Latest UMEK releases:
Parov Stelar – All Night (UMEK Remix) [1605] / http://snd.sc/1azMrts
UMEK & Spektre – Klaxon [1605] / http://snd.sc/13EThdE
UMEK & Mike Vale – Fluid Feel [Toolroom Records] / http://snd.sc/ZlUMif
UMEK – Love To Dance [Toolroom Records] / http://snd.sc/ZrK0Hl
UMEK & Pleasurekraft – Korea [1605] / http://snd.sc/Xg1Xrd
Latest 1605 releases:
Groovebox – Rock That Sh*t [1605] / http://snd.sc/11p5buM
Parov Stelar – All Night (UMEK Remix) [1605] / http://snd.sc/17fRu6a
VA – 1605*5 [1605] / http://snd.sc/13GJFis
Ant Brooks – Glide EP [1605] / http://snd.sc/10l8Cls
Mike Vale & Bagagee Viphex13 – Where The Funk [1605] / http://snd.sc/12hzDDR