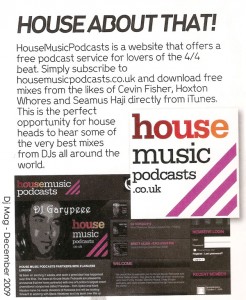 House Music Podcasts Now Almost 4 Years Old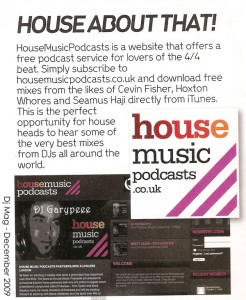 Its been and exciting 5 months for House Music Podcasts and since launching the website back in August 2009 the site has grown strenght to strength.
Over the last few weeks we are pleased to welcome a number of new exclusive shows to the website, and in talks with a couple of others 😉
The plan for the next 6 months is building, our goal is to take House Music Podcasts to the next level by introducing some new features that include competitions, news articles, exclusive events and potentially live audio streaming from some of the largest club nights around the UK.
Myself, Mark Masters and Steve Westover have been working hard pushing our website out into new markets, this has been demonstrated by our recent article in DjMag (December 2009). As a team we are always keen to hear feedback from both the artists on the website and our loyal visitors.
Over the next few months we are lauching Flawless Radio, this is going to be an exclusive online radio website that delivers live and pre-recorded radio shows via the main Flawless Radio website. The site is also being streamed on House Music Podcasts and a number of other websites to gain maximum exposure for its artists.
Flawless Recordings is due to launch in Jan 2010, initially with a number of tracks which we cannot wait for our visitors to hear!
2010 for Flawless London and House Music Podcasts is just around the corner. Our plans to take our brands to new heights is firmly in place and we are ready to make a very large impact across the music scene. Events have already been booked for 2010, and will be posted on House Music Podcasts very shortly.
From myself and the management team, we would like to thank everyone for their continued support over the last few months and we look forward to working with you all in the new year.
Regards
Tom Upton
Director
Flawless London / House Music Podcasts