Paris Hilton makes debut as a DJ!
Paris Hilton showed off her spinning skills on Saturday by performing a short DJ set at the Pop Music Festival in Sao Paulo, Brazil.
After the performance she wrote in her twitter: "Wow! What an incredible night! So happy you all loved my set! Loved watching you all smile & dance! One of the best night's of my life! ☺♡♫"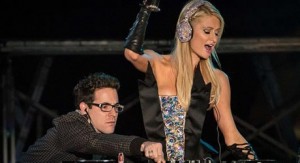 In a recent interview with Billboard, the 31-year-old opened up about looking forward to the event saying, "I cannot wait to DJ for the first time in front of thousands of people," adding, "I have been a part of the music scene and club scene since I was 15. It's something I have been passionate about and have come to respect very much. I am very excited to share all of my hard work with the world."
She started her set with a Poet and Chuckie mash up of Rihanna's "We Found Love" and actually played a personal made mash up by her and Poet of DeadMau5 and Avicii "Some Chords vs. Levels".
She included a few of her personal favorites by Swedish House Mafia including "Save The World", "Antidote" and "In My Mind (Axwell Remix)", all teed up to a stage show filled with impressive graphics making the crowd in Brazil go wild. (via Housemusicordie).
source: http://www.gossipcenter.com