Swedish House Mafia – Split at end of next tour
Swedish House Mafia will split at the end of their next tour. The dance supergroup has announced that its three members will go their separate ways following a final string of gigs in August.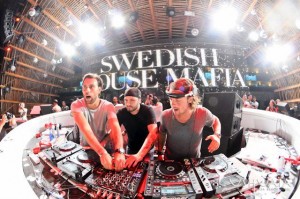 "We came, we raved, we loved," Swedish House Mafia wrote on Saturday. Despite their enormous success as a trio, DJs Steve Angello, Sebastian Ingrosso and Christofer Hedfors, aka Axwell, have revealed that they will pursue instead their separate careers. "We want to thank every single one of you that came with us on this journey," they wrote. "The tour we are about to go on will be our last."
Axwell, Ingrosso and Angello began performing together in 2008. They released seven singles, including four top 10 UK hits, and also saw huge success in the United States' booming dance scene. But Swedish House Mafia was never the most important thing on its members minds: "Swedish House Mafia comes last," their then-manager told Billboard last year.
Tinie Tempah, who worked with Swedish House Mafia on the hit Miami 2 Ibiza, said the group's decision was "such a shame". "They came together to create something that was really incredible," he told BBC Newsbeat. "All the guys are talented geniuses." Writing on Twitter, Ingrosso waxed poetic: "It's better to burn out," he wrote, "than fade away."
After performing at Radio 1's Hackney Weekend, Swedish House Mafia's next British gig is at T in the Park on 8 July, followed by a farewell show at Milton Keynes Bowl on 14 July. They then perform in Ibiza and Stockholm, with one last series of concerts to be unveiled soon.
Source: http://www.guardian.co.uk/music/2012/jun/25/swedish-house-mafia-split-up?newsfeed=true