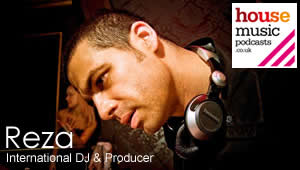 The team at House Music Podcasts were lucky enough to speak to the one and only Reza and asked him a few questions about his Dj Career! and what he has lined up over the next 12months.
1.How did you first get into DJing?
Back in 91 i used to go to a lot of Raves and watch the likes of Carl Cox which inspired me to start myself.
2.What was the first record you bought?
Prince 'Let's Go Crazy' in 1985 i think.
3.What have you been up to so far this year?
This year has been really good! i have produced tracks with the many people including Jonathan Ulysess, K Klass, Delicious etc and have had tracks and remixes on labels such as Pacha, Nervous, Armada, Kinky Digital, Born To Dance etc. This year i have played in England quite a lot and also in Poland, Ibiza, Belfast, Guernsey, Jersey etc.
4.How did you get your foot in the door?
Not really sure, through hard work and dedication i suppose!
5.What's the best memory you have from behind the decks?
That's a tricky question, probably playing @ V Festival 2005 or the last DTPM @ Fabric.
6.Longest ever DJ set?
9 Hours
7.What's your set up like at home?
Basic, all software based.
8.What advice do you have for any up and coming DJs?
To be original, commited and nice to people!
9.Would you agree that you have to produce tracks now to get a name?
Either that or be female and where skimpy clothes.
10.What the largest venue you have played at this year?
El Divino in Ibiza or Deja Vu in Hull at their new venue is a fair size.
11.Whats your most successful track you have produced so far?
'Sleazebag' or 'I Am Eternal' i've just remixed 'I Am Eternal' and signed it to Pacha with the release due any day now.
12.What in your opinion does it take to be a world class DJ?
Skill and the ability to read the crowd…i always say your eyes areas important as your ears.
13.What do you use format do you use Cdj's or Vinyl? Also why?
CDJS mainly these days due to the fact you cannot get the tracks on vinyl anymore.
14.What are your top 3 tracks at the moment?
K Klass + Reza 'Finally' – Sebastian Ingrosso 'Kidsos' – Bobby Tee + Juan Kidd 'We Come 1′ – Guetta,Ingrosso,Dirty South 'How Soon Is Now' –
Reza ' Pumping It Up'
15.What productions are you working on at the moment?
Collaborations with Eddie Amador, K Klass, Ted Nilsson+Steve Haines, a couple of tracks with Nicole Tyler and remixing the new DJ Dove track.
16.What do you think of the house music scene in the UK at the moment?
It's in a difficult place but there's still some really strong nights out there.
17.Where would you like to perform that you haven't yet?
So many places!! Australia.
18.In Your opinion who is the best DJ in the world?
Roger Sanchez
19.What do you do in your spare time?
Family and football.
20.How do you think your going to do in the Top 100 Djs competition?
Not great…i've not entered!
Other Information:
http://www.myspace.com/rezadjproducer
http://www.facebook.com/rezamusic
YouTube Video's
Current/Forthcoming releases.
Reza – Eclipse – Kinky Digital – UK – Featured on Pete Tongs Essential Selection on Radio 1
Reza – I Am Eternal 2009 – Pacha Recordings – Spain
Reza + Jonathan Ulysses – We Shall Prevail – Born To Dance – UK with Kid Massive remix
Reza – Live Again – Stoneyboy/Armada – Netherlands – with Stonebridge remix. Featured on Fierce Angels Es Vive 2008 Compilation CD,
Stonebridge's 'The Flavour, The Vibe' Compilation CD + Bodywork 8 Compilation CD
Reza – There Is Power – Housession – Germany – with remixes from Dave Armstrong / Thomas Gold / Tune Brothers
Reza ft Nicole Tyler – Take Me Home – Suka – France
Reza + Delicious – Borneo – MuzikXpress – Uruguay
Reza – Pumpin It Up – Muzik-K – UK
Reza – The Wrath Of God – M-Trax/ Metrogroove – UK with Phunk Investigation remix.
Reza – Let Yourself Go – Slammin House Muzik – Germany
Reza – Love To Be Dominated – Toolbox House – UK
Reza – Mythology EP – Pure Trax -Portugal
Reza – Cyclops – House Sound Of L.A. – USA
Reza – Nemesis – Open Bar Music – USA
Reza – Full Of Stars – Musicxtrax – UK
Reza – Go On Then – Slammin House Muzik + Catwalk – Germany/online compilations
White Shoes – Show Me The Way (Reza remix) – Absolutely – Italy / Nervous – USA
K-Klass – Rhythm Is A Mystery 2009 (Reza remix) – Muzik-K – UK
Peter Brown – Old School (Reza remix) – Pacha Recordings – Spain
Chris Montana – Speed Of Life (Reza remix) – S2G – Germany
Stacy Kidd + Fast Eddie – House Music (Reza remix) – Metrogroove – UK
Toby Emerson – Reflections (Reza remix) – Subversive – UK
Wonderland Avenue – Idol Eyes Part 2 (Reza remix) – Slammin Muzik – Germany
Mark Picchiotti – So Sweet (Reza remix) – Metrogroove – UK
Destineak – Gimme What I Came For (Reza remix) – Decks Tracks – Germany
Ronnie Maze – House Music Will Never Die (Reza Remix) – Neurotic Groove – USA
Pacific + Vandyk – Got The Love (Reza remix) – City Cab – Netherlands
Albert Maris – Dream World (Reza remix) – 24 Beats – Spain
Mikey Dalton + Uber DJ's – Money $hot (Reza remix) – Groove Digital – UK
Hurdy Gurdy – Work Ya Love – Electrico Records – UK
The Speaker Junkies – The Time Is Now (Reza remix) – Acropolis RPM – USA
Jason Herd – So Strong (Reza remix) – Lowered Recordings – UK
Kinkie – Teenage Dj (Reza remix) – Kompis Recordings – UK