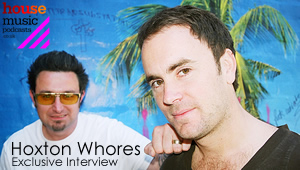 The team at House Music Podcasts were lucky enough to speak to Kevin from HoxtonWhores and to ask him a few questions about his Dj Career! and what he has lined up over the next 12months.
1. How did you first get into DJing?
It was many a moon ago now…I was promoting my own parties "Flaunt It" and it seemed the Dj's were having so much fun I felt I needed to get involved, it moved on from there because it put me in the position to make sure the correct music was being played for the crowd!!
2. What was the first record you bought?
You got me scratching my head now… I'd like to be clever and say it was an anthem like Alison Limerick "Where Love Lives" but that'd be lying, i'm pretty certain it was shit in fact I'm certain it was really shit!!! It's been a while now so it's tough to remember….know I'd be totally embarrassed so not gonna commit!!
3. What have you been up to so far this year?
There's been so much going on it's difficult to know where to start, been a fanatstic year all round with plenty happening in and out the studio….
Launched "WhoreHouse" at Eden in Ibiza, a massive moment… having started "WhoreHouse" last year in the UK it was always an ambition to get a night started in the White Isle and it's led to taking "WhoreHouse" tours all over the world which means another box ticked!!!
Launched my own record label "World Sound Recordings"….always fancied that and it's given me the ideal platform to express what i've learn't from the industry over the past 10 years and display what I'm all about. The first 5 releases have received fantastic feedback and currently have the new mixes of "Kevin Andrews – Hold That Sucker Down" live on Beatport!!
As Hoxton Whores we've had enormous success on the "Devil Toy" track (Beatport and Dj Download No.1′s), now signed to the TOOLROOM camp awaiting a major release and hopefully a winner for the charts later in the year!!. "Wherever" (a joint project with the Stafford Brothers) was released on MOS (Australia) in April and reached No. 2 on there club charts and no. 20 in there physical chart…with "Love Lasts Forever" coming as the follow up. "Staunch" has been signed to Star 69, taking us stateside and finally cracking us in the US market. "Sunrise" has been signed to Peppermint Jam and is set to be a solid release this year along with plenty of other projects oozing through the studio doors, including a brand new monster mix of our massive club anthem "Friday Saturday Love".
On the Dj front we've had tours all over the world taking us to all corners, Australia China, Asia, America, Europe and South America, with a Jam packed diary for the rest of the year… not leaving me much room for complaint!!
4. How did you get your foot in the door?
I'll try to keep this brief……getting behind the decks at my own night gave me a major taste for the industry and i promptly moved to starting my own record distribution company "Essential Direct Ltd" This successfully financed two fully equipped studios and gave birth to the "The HOXTON WHORES" enabling me and Gary Dedman (The other half of HW's) to create numerous monster club anthems, announcing ourselves into many a dj's record bag!! Leading on from the productions we received numerous DJ enquiries and squeezed our feet through the door and onto the worldwide scene!!!
5. What's the best memory you have from behind the decks?
During the 8 years as the dasterdly duo I've had plenty of highs and lows behind the decks but Djing at festivals to 15,000 people or so has definitely got to be a high for me, the likes of H2O festival in S.Africa, Colors in Helsinki, MTV Dance Slovakia, and playing Good Vibrations after party in Aus….what a feeling!!!. Dj tours have also been superb, getting to see the worlds major cities from a full on party angle, especially when your playing to 2000 people on a roof terrace in the centre of Sydney at Sounds On Sunday…CRAZY!! But conquering the Space terrace at full tilt and Sunset/Sunrise on jam packed beaches is always an amazing sensation!!
On the music front…seeing a crowd go mental to a track you've produced is immense or hearing one of the top boys slam it out in a top club…can't beat it!!
6. What was your longest ever DJ set?
9 hours for me…a new years eve about 8 years ago when I played at my pals party ….told him I'd be up for playing the full set to give me the chance to go through all genres of house and be able to mix it right up!!! Loved it and managed to do the full set without playing any tracks twice….baring in mind it was all vinyl (some serious lugging there!!)!!!
7. What's your set up like at home?
Bit all over the place at the mo as just moved into a new pad….but when it's finished will be awesome as i'm building my own full studio…..don't fancy being one of my neighbours!!!
8. What advice do you have for any up and coming DJs?
You've gotta love it, be prepared to work hard and take knock backs along the way!! Definitely is an advantage to break it as a DJ if you've got your own productions…. good luck!!!!!
9. Would you agree that you have to produce tracks now to get a name?
Without fail….all the biggest DJ's and up and coming names all produce music and have had successful releases….consider it your business card!!
10. What's your most successful track you have produced so far?
There's been a few biggies along the way with similar success but I'd have to say "Sunshine of your love". It was probably our first biggie reaching about 40 in the Uk top 40 but had extra significance for us because Eric Clapton gave us clearance and Fat Boy Slim played it first record at Glastonbury live on the BBC website!!!
11. What in your opinion does it take to be a world class DJ?
Dedication, skill, great music knowledge, good luck, hard work, producing bad ass tunes and being a filthy drinker!!!
12. What do you use format do you use Cdj's or Vinyl? Also why?
Loved paying from vinyl back in the day, the warmth of the sound was the best but it became too hard to keep ahead of the game with Cd's making music too available. Now love playing from Cd's with the advantage of using 4 decks, firing in accapellas and samples etc… but not sure I'm ready to play from a Laptop as I feel the crowd prefer to see you doing your stuff rather than standing behind a computer!!
13. What are your top 5 tracks at the moment?
There are a lot of good tunes about at the mo but this would be my pick!!
Hoxton Whores "Friday Saturday Love" (Hoxton Whores 2009 mix)
Felix Baumgartner "The Tunnel" (Original)
Cirez D "On Off" (Original)
Kevin Andrews "Hold That Sucker Down" (Felix Baumgartner Remix)
Hoxton Whores vs Stafford Brothers "Tonight" (Original"
14. What productions are you working on at the moment?
On my label I've been concentrating on getting some solid, fat, underground tracks out full of dirty underground beats, monster progressive grooves and energetic tech house flavours with "Spectrum Z", "Dance Revolution", "FaceLess", "Get Down" and 'Dance With Me" currently lined up. As a priority I'm heavily pushing "Hold That Sucker Down" just released on beatport!!
On the HW front "Vicious Fever" is the latest project coming with a strong remix package and "Zulu Dawn", "Friday Sat Love", "Tonight" and "Lets Rock" are soon to follow!!
So overall grafting my nuts off in the studio!!
15. What do you think of the house music scene in the UK at the moment?
I'm loving it…think it's really healthy with some brilliant tracks about!! Digital has really helped as there much less risk involved in releasing tracks as you don't have the added pressure of paying to press vinyl etc….think it allows for much more freedom!!
16. Where would you like to perform that you haven't yet?
That's easy…I've never played Brazil yet (heard the parties there are amazing especially the carnivals and beach parties!!)….in all the tours i've ever done it's always fallen through!! Supposedly it's lined up for October so fingers crossed this one won't collapse!!
17. In Your opinion who is the best DJ in the world?
Very very tough to say as I'm always working and never get to see em play….reckon over the last 2 years I'd have to give it to Deadmau5 simply for his productions and the reports I've heard!! Technically there are some very highly skilled boys out there but reckon he's gotta be one off the biggest freshest brands around at the mo!!!
18. What do you do in your spare time?
Sport sport sport….love it and can't get enough!! Love my football, golf and squash…anyone fancy a game???
19. How do you think your going to do in the Top 100 Djs competition?
Who knows…such a tough competition these days and theres a good few people out there fiddling it each year with techknowledgy and voting…but it's down to the general public so we'll just leave it in their capable hands