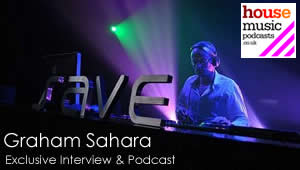 The team at House Music Podcasts were lucky enough to speak to the one and only Graham Sahara (Seamless Recordings) to ask him a few questions about his Dj Career! and what he has lined up over the next 12months.
Don't forget to vote for Graham at the Best Ibiza DJ 2009 on the Dj Awards website. More can be found here by clicking this link – Dj Awards
1. How did you first get into DJing?
I first got into djíng after hearing a Graeme Park tape in 92 and really liking the music. After that I went to a few house clubs and got in to the music more and then bought some decks and started my now very large house music vinyl collection.
2. What was the first record you bought?
It was actually Sister Sledge – Frankie!!
3. What have you been up to so far this year?
Playing all summer long in Pacha Ibiza aswell as two tours of brasil and numerous other gigs away from Ibiza. I´ve been working hard in the studio with various remixes and productions of my own which are all coming out very shortly
4. How did you get your foot in the door?
Well moving to Ibiza 13 years ago really got my foot in the door, after playing various gigs in and around Birmingham I took a chance to come over here the year before the island blew up to iconic status around the world. I met a lot of people my first year and then never left.
5. What's the best memory you have from behind the decks?
Theres been so many, but I would say headlining with Laurent Garnier in Belgium was a massive highlight for me, but then playing to 6000 people in brasil this year was pretty special to
6. What was your longest ever DJ set?
It would be in Bora Bora in 2000 every Monday from midday to midnight. 12hours is a long time but obviously you don't bang it out a the start as you have to build the set. Playing for so long is tiring but you get to take a set in the direction you are feeling and when a crowd builds and builds and keeps getting crazier and crazier, it just keeps the adrenaline up and keeps you going
7. What's your set up like at home?
I´ve just got a studio at home these days. (I´ve sold my decks as I don't use them any more and the cd players are in the cupboard gathering dust!) I don't really have the time to practice. I might play around with live to practice a few mixes but its quite rare, I like to play off the cuff and see where my mood takes me, and its been serving me pretty damn well so far!
8. What advice do you have for any up and coming DJs?
Keep practicing and have a lot of patience, and go out a lot, no ones going to come knocking on your door. You have to be in the right place and the right time!
9. Would you agree that you have to produce tracks now to get a name?
100% its now purely an artist thing
10. What the largest venue you have played at this year?
The pacha party in Brasilia with 6000 people
11. What's your most successful track you have produced so far?
One that's not come out yet! I´ve been caning it this summer and its been destroying the Defected parties at pacha this summer. Its getting released at the end of the summer on Seamless Recordings and its called Stop
12. What in your opinion does it take to be a world class DJ?
A massive track
13. What do you use format do you use Cdj's or Vinyl? Also why?
Cds, I love the cue and loop functions which you don't get on vinyl. There is serato and traktor but I´m not into using a computer to play on.
14. What are your top 5 tracks at the moment?
Graham Sahara – Stop – Seamless Reccordings
Mark Knight – Flauta Magica – Toolroom
Dirty Gents – Think About You – Dani Vars instrumental – Seamless Recordings
Justin Michael and Phonic Funk ft Maiya – My Destination – Word Of Mouth Mix – Seamless Recordings
Nick & Danny Chatelain – Rumba – David Penn Mix – Tenor Recordings
15. What productions are you working on at the moment?
Finishing off the last track for an EP for seamless, and remixing Souldynamic and then also I have just finished a track with Phonic Funk and Natasha Watts
16. What do you think of the house music scene in the UK at the moment?
Mmmmm its pretty good but its been a while since I was last there
17. Where would you like to perform that you haven't yet?
Australia, it's the only continent, Antartic excluded, that I haven't been
to yet
18. In Your opinion who is the best DJ in the world?
Mmm tough question, its all about personal opinion and musical tastes, but technically I think most house djs would struggle to keep up with the hip hop and DMC guys, i´ve played with a couple in south Africa years ago and man these guys have got some technic. I do what I do very well as do most house, trance & techno djs but skills wise and technically these guys are on another level. I have a lot of respect for them
19. What do you do in your spare time?
Whats that then! I´m a work a holic. If i´m not playing, running Seamless or in the studio, i´m sleeping although I suppose I could say I chill out with my girlfriend!
20. How do you think your going to do in the Top 100 Djs competition?
Well not come last! but lets be honest its really hard to break in to the top 100 unless you have a huge hit on board and even then its not easy. Luciano and Villalobos etc are massively popular and they havent broken in to the top 100 yet so really you gotta put it all in to prospective, but at the same time you gotta be in it to win it!