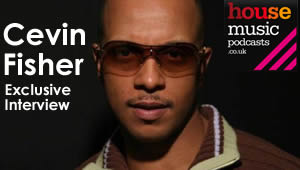 The team at House Music Podcasts were lucky enough to speak to the one and only Cevin Fisher to ask him a few questions about his Dj Career! and what he has lined up over the next 12months.
1. How did you first get into DJing?
A.) I first got into djing back at high school. I had a friend whose brother was a big Paradise Garage fan – he had turntables in his garage , and we used to skip school and lock ourselves in the garage with two turntables and a mixer. We were determined to pick up the skills and so we taught ourselves how to dj. Not long after that we started getting booked in the neighborhood and for highschool parties and local bars – my father's bar included. We were like rockstars in the neighborhood lol!.
2. What was the first record you bought?
A.) If I remember correctly, 'Dancin Machine' by the Jackson 5 was the first record I bought. It was a 45 and I played it till it turned grey ..
3. What have you been up to so far this year?
A.) Well I just got back from a Southeast Asia tour – Actually it started in Europe, I played the Barcelona Summer Week Festival – from there I went to Kuala Lumpur in Malaysia to play Ministry Of Sound then to Jakarta to play at Stadium – on to Bali to play at Club Klappa, and then we ended in Seoul Korea at M2. I have to say this was an interesting time for me. All of the shows we're super special in their own way. I had a blast. I've also been working in the studio on some collaborations with Paul Harris, Prok & Fitch, Dj Kelee, Pete Heller and Terry Farley.
4. How did you get your foot in the door?
A.) Well I started many years ago. I've been doing music in one way or another my whole life but it was when I moved to NYC that things started to get serious. I started working as a programmer and studio gopher at various recording studios. I was lucky enough to meet some great producers, who took me under their wings – Arthur Bake, Dave Shaw & Timmy Regisford to name a few.
5. What's the best memory you have from behind the decks?
A.) I have so many great memories but if I have to single one out, I would have to say a long time ago I played at a club in Toronto called Industry. It was an amazing underground club & I remember playing one night and the crowd was simply on fire and I think I was too. I remember after my set there was a percussionist jamming and I was so pumped up that I just sat down with him and we jammed out on a set of congas – the crowd was just energized and we had a blast.
6. What was your longest ever DJ set?
A.) I did a tour of Japan some time ago and I played at a club called Maniac Love, and at a club called Air. I believe I played 7 hours and of course everyone wanted more. However, the lights came on for the last time and that was that .
7. What's your set up like at home?
A.) I have a very tight set up right now – a mixer & 2 CDJ's, so when I go to clubs to play, it really feels like I'm stepping out of a compact car into something luxurious! I have my 2 computers that I program all of my music on. My studio's all virtual & I have some really cool programs that I use – I still love mixing at outside studios because I get to pump up the music, with no complaints from neighbors lol!
8. What advice do you have for any up and coming DJs?
A.) Don't get lost in the fact that someone seems to be at a higher level than you. You can drive yourself mental trying to figure that out. Just do your thing and stay focused on what you want to do. Find the producers and Dj's that you love and just let them be an inspiration to you. Chances are if there out there and doing their thing, they paid their dues and most of them deserve what they have going on.
9. Would you agree that you have to produce tracks now to get a name?
A.) I feel like it helps, I've been doing this for quite some time now and producing tracks has definately helped me along the way. However its not the only way – If you're a dj and thats all you wanna do, then go for it.
10. What the largest venue you have played at this year?
A.) Probably Circa in Toronto – Its owned by the legendary Peter Gatien, who owned famous clubs in NYC like Limelight, Palladium, Tunnel & USA. It was a really special night for me…
11. What's your most successful track you have produced so far?
A.) I would have to say " The Freaks Come Out". We just recently released the 10 year anniversary mixes and its doing really well. So its like having a second life with this record. It came out on Subversive in the UK .
12. What in your opinion does it take to be a world class DJ?
A.) An ability to relate to the music lovers around the world. Its quite challenging. For example , I may play in NYC on a Friday, and Toronto on a Saturday, and chances are my sets would be very different. I think the key is to be able to have some similarities. But from my experience you really need to be able to charge it up.
13. What do you use format do you use Cdj's or Vinyl? Also why?
A.) I actually use cds. It took me forever to convert from vinyl but after a while it just made more sense overall for me to switch to cds. The fact that I never have to check my music in on flights was a real advantage for using cds. I remember once I had a show in Italy, and my records went to Colorado, and my heart was broken. Luckily the promoters we're connected with a distributor who took me to his warehouse and let me shop for music – I have to say I found some of the best tracks ever! Ciao Napoli!
14. What are your top 5 tracks at the moment?
A.)
1.)Losing My Mind , Paul Harris & Cevin Fisher
2.)Sunrise, Hoxton Whores
3.)Mundo, Prok and Fitch ft Cevin Fisher
4.)I Get Lifted, Defected
5.)Love & Happiness, La India
15. What productions are you working on at the moment?
A.) I'm currently working on a new project with Pete Heller and Terry Farley and a new CF project for Subversive titled 'Sex Machine'.
16. What do you think of the house music scene in the UK at the moment?
A.) I haven't been to the UK in a while but I do love the place. I always get great music from the producers and labels over there & I've always been a big Defected fan. I'm hoping to get back soon.
17. Where would you like to perform that you haven't yet?
A.) Well I've played in Ibiza , but its been a really long time since my last show there. I'd really love to get back over there. I would also love to play in Australia – great things about Down Under. I had a chance to go back in 2001 but I got the Y2k bug and decided not to go! So I'm hoping to go in 2010.
18. In Your opinion who is the best DJ in the world?
A.) Thats a tough question. I've answered it many different ways, so today I'd like to give props to the Creator – he's the one who created all the DJ's! Like Faithless said 'God is a DJ'.
19. What do you do in your spare time?
A.) I like to work out at the gym, and I love taking pictures. I'm getting more into the whole photography thing – I'm going to get myself a really cool high-tech camera & document all of my travels.
20. How do you think your going to do in the Top 100 Djs Competition
A.) Well it would be nice just to be considered amongst all of the great talent the World has to offer…