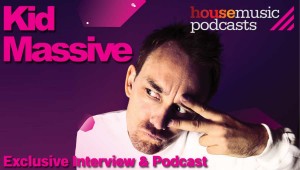 The team at House Music Podcasts were lucky enough to catch up with the man of the moment Kid Massive, it's been an amazing year for him with his record label Audio Damage, World Tours and topped off with some outstanding Productions. Lets jump straight in and ask him a few questions about his Dj Career! and what he has lined up over the next 12 months.
1. How did you first get into DJing?
I started DJing about 18 years ago. Growing up, I used to love listening to the radio and would tape the old dance classics like K.r.u.s.h by Mel & Kim Marrs on my old ghettoblaster and edit out the presenter, sort of making my own mash up compilations. That was what triggered my love for electronic music which then grew into hip hop, jungle and finally house music in it's current form.
2. What have you been up to so far this year?
I have had a fantastic year, with all aspects of what I do exceeding my own expectations. I've been touring for most of the year in parts of the world I've never been to before like Columbia, Ecuador, Sri Lanka and most recently my first tour of Australia, taking in Canberra, Brisbane, Melbourne and Sydney. There's also been numerous dates across Europe and I've managed to secure my first international residency at Club Mono in Belfast, Ireland.
Production wise, things have been great with my last 2 singles doing very well for me. "Touch Ne (in the morning)" including the Avicii mix is currently out on Stealth Records and "Music Is The Answer" on Cabellero Recordings – keep an ear out for the awesome Muzzaik remix. There's been further releases on on the US label Gossip, Control Freq (Filthy Rich), Black Hole Recordings (Tiesto) and several singles my own label Audiodamage Records.
Excitingly, we have just released our first compilation on the Audiodamage imprint, which is a double CD mixed by Michael Gray (also known as one half of Full Intention) and myself. We have a great tracklisting including artists and remixers such as Full Intention, Prok & Fitch, Benny Royal, Filthy Rich, Bingo Players and David Penn.
3. How did you get your foot in the door?
I released my first single in 2005 on Sip n Slide Records, which was a great feeling – when the vinyl arrived I was over the moon. Since then I've released more than 50 singles, 100 remixes, 3 compilations and 3 albums. So I've done ok for myself!
4. What's your set up like at home?
I have a neat studio set up in the back room of my flat which is pretty spacious, especially considering it's London! It's a pretty basic set up and I don't have too much outboard gear; Genelec & Dynaudio speakers, Mac tower, mixer, outboard stereo compressor and summing. These days it's easy to get great sound out of simple gear, unlike when I first started – you needed the extra gear to beef up your production.
5. What advice do you have for any up and coming DJs?
I've always said, be true to yourself and your musical taste. Never copy but be inspired. That's the basic motto I live by when producing and DJing. It's so easy to jump on bandwagons in terms of what's hot right now (ie. dubstep, minimal etc) but trends fade, so just keep it real and true to your own taste and by doing so you will start to develop your own style which will in turn, help define you as an artist.
6. Would you agree that you have to produce tracks now to get a name?
DJs are a dime a dozen, especially in the UK and with the market being saturated it's hard to make a name for yourself by DJing alone.
Production enables you to reach a wider, international audience which boosts your standing and reputation as a DJ.
7. What the largest venue you have played at this year?
I've played twice at the superclub Matter (O2 Arena) in London, as resident for the well known Kinky Malinki brand. That was amazing. Dropping a big set in the main room at Matter – it doesn't get much bigger than that (in the UK) apart from the festivals. The place holds 3000 and Kinky pull that sized crowd each time, it's fantastic!
I'm back there on February 12th of next year…. can't wait!
8. What's your most successful track you have produced so far?
I released "Get Busy" featuring Elliotte Williams Ndure late last year through the Soul Avengerz label Soda Records and that did really well for me. It actually opened a lot of doors for me in terms of touring and remix work and has just been re-released on strictly rhythm with fantastic mixes from Chris Kaeser and new Dutch whizkids Disfunktion.
9. What do you use format do you use Cdj's or Vinyl? Also why?
I was a massive vinyl junkie with over ten thousand stored in my old flat, but due to moving abroad I had to get rid of them. That actually still haunts me to this day! I use CDs right now but have recently been inspired by lap top, after joining Bass Kleph for a gig in Sydney who absolutely killed it. I use lots of accapellas in my sets,and by going digital I might be able to push my sets even further but it's just food for thought right now, as I am fond of the CDJs
10. What are your top 5 tracks at the moment?
1. Kid massive ft Elliotte Williams Ndure – Touch Me (in the morning)
(Avicii massive mix – Stealth. A huge remix, loving everything this guy is doing right now!)
2. Tune Brothers – Girl Friend – Houseshaker mix – Housesession rRcords
(Houseshaker delivers a rocking remix, so funky and jacking it hurts! Great vocal as well.)
3. Kid Massive – Just Want u – Mell Tierra mix – Groove Masters Records
(Fantastic mix from this upcoming Dutch producer.)
4. FG & JYD – Sextoy – The Good Guys mix – Audiodamage Records
(This is the new single on my label which replays the old Happy Clappers – I Believe sample. Great techy mix from The GG.)
5. Gold & Menck – Everybody, Be Somebody – Jolly mix – CDR
(I was sent this by a new artist called Jolly and it just blew me away!)
11. What productions are you working on at the moment?
I'm currently in the studio with Paul Harris and Micheal Gray working on a latin tinged, full vocal track, which should hopefully be ready by early 2010. I am also working on a remake of the C&C Music classic, "Pride A Deeper Love" with Chris Kaeser from France. While I was down under, I hooked up with Neon Estereo so we're collaborating on new material. And finally, I'm doing a hip house style track with producer Angel Manuel from NYC. Remix wise, I'm reworking the new single from Hook & Sling featuring the front man of Zoot Woman, Johnny Blake, to be released through MOS. Also doing a remix for Aussie producers Sgt Slick and Chardy, set for release on Vicious Vinyl.
12. What do you do when not working ?
Most of my time is spent in the studio or office (one and the same really), as the label keeps going from strength to strength. There's always a large volume of work to be done, especially after I've been away on tour. But recently I've started going to the gym which is great after spending a day glued to the computer screen and I do like eating out in London, there are some great places. I also collect trainers – so far I'm up to 49 pairs and growing!
13. What do you want for Christmas ?
New slippers and world peace!
The team at HouseMusicPodcasts would like to thank Kid Massive for taking the time out of his busy schedule and wishes him all the best for the future. Don't forget to check out his exclusive podcast mix on the website.