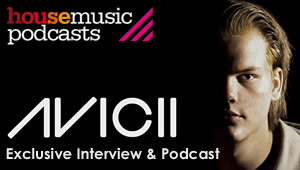 Avicii Exclusive Interview
BIOGRAPHY
Avicii had only been producing a few months when his friends noticed that the productions were amazingly professional and that they had just witnessed a great talent being born. Avicii started out with doing a remix of the theme music for the Commodore 64 game 'Lazy Jones', but decided to drop it as it inspired him to make his own 'Lazy Lace' – released almost immediately on Strike Recordings.
Avicii was instantly fascinated with producing and spent many hours in his home studio creating one fresh tune after the next. Avicii never tried to get caught up in a specific subgenre of house, but wanted to keep the productions up to date and innovative. His music is inspired by the likes of Laidback Luke, Steve Angello and Tocadisco, but also Daft Punk, Eric Prydz and that of Axwell. In April 2008, Avicii released the first big track, 'Manman', on Pete Tong's Bedroom Bedlam label after winning the Pete Tong Fast Trax. Avicii received an astonishing 70% of the votes and after the release and were contacted by numerous labels, promoters and booking agencies from all over the globe. Even Laidback Luke mentioned Avicii on his Myspace website saying: "[Avicii], by winning this competition, left many contesters behind in their dust. / So a big CONGRATULATIONS to these brilliant DJs for winning the contest and all the luck with their future careers!"
What Avicii wants is to create music for people to listen to and come to love, whether it be at home or in a dark nightclub. Avicii puts great emphasis on melodies in his productions and wants to appeal to fans of many different house music genres. Avicii signed on to At Night Management in May 2008 and within a month the buzz around them spread noticeably and they were recognized on labels such as Joia Records, Vicious Grooves and Ministry of Sound, just to name a few. By the end of that month, Avicii had already signed a big deal with Vicious Grooves in Australia and were head on target to soon explode over the entire globe.
Avicii is currently appearing on selected international DJ gigs but otherwise locked up in the studio, always experimenting with new sounds in order to bring out original cool tracks and to grow as producers.
More recently, the 19 year old producer has been VERY busy in the studio. With his first single (Sound of Now) and follow up EP (Muja/Record Breaker) off the shelf, remixes for D.O.N.S., Roger Sanchez, as well as Jose Nunez, Richard Grey & Erick Morillo and with upcoming mixes for Livin Joy, Phonat, Little Boots, Paul Thomas and Tim Berg – just to mention a few. Among more of his own releases, Avicii broke ground in 2009 with his third release and original track Ryù, which was charted two weeks before release on Pete Tong's Essential Mix. One week later it was 'This Week's Essential New Tune' while at the same time the "track of the week" on Tiesto's Club Life (Episode 113). The track hit Beatport Top 20 in worldwide sales almost instantly and has been on Top 30 for over 4 weeks.
Avicii in 2009 means killer vocal collaborations combined with his own high energy style productions bringing a new sound to the scene. Avicii truly is the Sound of Now.
Past big gig moments:
At WMC, Avicii played on Laidback Luke's "Superyou & Me" party (@ Club Louis) alongside Luke himself, A-Trak (Kanye West DJ), Bart B More, Chocolate Puma and The Party Squad among others, who were very impressed by the way this young DJ could read the crowd. At another WMC event, Avicii played together with Philgood alongside Stephan M, Norman Doray, Arno Cost, Denis The Menace, Big World, and more…
Current travels:
Avicii is just back from Las Vegas where he was working with many different artists under Ultra Records.
Press coverage (France):
Avicii did a big interview where he was named "The Swedish Future" (as a replacement of Swedish House Mafia) in the May 2009 issue of French DJ magazine "Only For DJs".
Industry support:
Still at the beginning of his career, Avicii has already been honoured in support by the likes Tiesto, Roger Sanchez, Pete Tong, Laidback Luke, Dirty South, Axwell, Sebastian Ingrosso, Eric Morillo, Joachim Garraud, Kaskade, Chris Lake and Greg Cerrone among many other heavy names in the industry.
House Music Podcasts Interview
1. How did you first get into DJing?
I got into producing first, dont really remember how to be honest, I just know I wanted to remix the track Lazy Jones (or kernkraft 400 by zombie nation). Then I started putting more and more time into it and before long I spent most of my time producing!
2. What was the first record you bought?
In general? Must've been Kiss – Lick it up I think.
3. What have you been up to so far this year?
This year I've mainly been in the studio producing, been doin A LOT of remixes and a few collaborations! Spent 2 months in Las Vegas with Starkillers and Austin Leeds. Other than that Ive been doin a small selection of gigs and in the beginning of the year I did a large amount of underground gigs under aliases. Thing is I'm a producer first hand so the DJ aspect is something ive had to learn over the past two years, and I obviously started off getting attention for my remixes and solo releases. So far we've picked our gigs carefully and have been holding off tours until now but in 2010 I'm ready to ROCK the clubs of the world!
4. How did you get your foot in the door?
I think it all started for real when I got signed to At Night management who helped me out a lot and I definitely wouldn't be sitting here if it weren't for my manager. It's a really tough industry and the hardest part is just that, to get your foot in the door, and through my management I got in touch with some of the biggest names in the industry and opportunities beyond belief.
5. What's the best memory you have from behind the decks?
So far its def. Techno Parade in Paris, was my biggest gig so far and it was just a great vibe throughout the set, an amazing experience!
6. What was your longest ever DJ set?
4-5 hours I think, nothing fancy
7. What's your set up like at home?
I have a very small setup, my macbook pro, 2 genelec speakers (which I rarely use anyways except for mastering – because of my neighbours!) my sennheiser hd25s and an akai mpk 49 midi keyboard. I really dont like the idea for me to go to a studio every time I wanted to produce, it would feel too much like I'd be forced to work!
8. What advice do you have for any up and coming DJs?
Its hard work and you really need to be determined to put in all those hours producing, getting to know people in the industry, sending around promos to djs etc. Another good idea is to get in touch with big blogs and ask them to post your stuff. You obviously wouldnt make any money off sales that way but I mean, who does nowadays anyway? The key is to be discovered just like it's always been – so do all you can.
9. Would you agree that you have to produce tracks now to get a name?
Without a doubt, of course there are exceptions but there's too much to compete with to make it without producing at all.
11. What's your most successful track you have produced so far?
Its probably Ryu or Alcoholic, Im really happy how both releases turned out!
13. What do you use format do you use Cdj's or Vinyl? Also why?
CDJs, I havnt been around long enough to feel any kind of nostalgia with vinyls and without that its just not worth dragging them around.
14. What are your top 5 tracks at the moment?
At the moment its probably John Dahlbäck remix of Alcoholic, my remix for David Guettas One Love, Norman Doray – Tobita, Tom Novy and Jerry Ropero – Touch Me Greg Cerrone remix, and Laidback Luke and Gregor Salto – Step by Step, in no particular order!
15. What productions are you working on at the moment?
Im trying to put all my time atm into solo stuff since i havent had much time last two months, working on some tracks for WMC which Im really looking forward to releasing!
17. Where would you like to perform that you haven't yet?
Sensation White
20. What would you like for christmas?
The love from my friends and family is enough! And a hit record.
Useful Website Links:
www.atnight.se
www.avicii.com
www.myspace.com/atnightmanagement
www.myspace.com/avicii