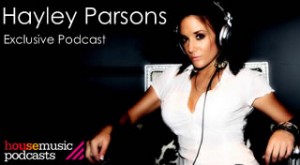 The team at House Music Podcasts were lucky enough to speak to Hayley Parsons and to ask her a few questions about her Dj Career!
On the 14th August 2009 Judge Jules aired Hayley's new production – "Hayley Parsons – Changing Lanes" on BBC Radio 1
More information can be found here – http://www.bbc.co.uk/radio1/judgejules/
Check out some of Hayley's Podcasts here!
How did you first get into DJing?
I went to Ibiza in 2006 fell in love with the place and the music, went home and jumped on my housemates 1210′s. Really struggled with them to start with, then i borrowed a friends old school cdjs with the plus and minus buttons and the little jog wheel, learnt a little bit on there and then brought my self some cdj turntables and locked my self away for about 4 months.
What was the first record you bought?
Didnt buy vinyl as i mainly learnt on CD's but borrowed my mates he had a load of hard dance and trance records, thought id ease my self in gently haha.
What have you been up to so far this year?
I have been really lucky, i have played in some amazing countries and clubs as well as gigs in the UK. Begining of the year i went to Miami Winter Conference where i played at Nikki Beach, on the last day, then came home and flew off to France to play in Chamonix, then Bremen Germany. I then had a few gigs in Shanghai China that was amazing, the people over there LOVE their house music it was great. Then on to Moscow to play at Pacha for Miss Moneypennys, that has been one of my favorite gigs so far. I then played in Ibiza for the first time, was unbelieveable!! had so much fun , the best places were for Audiodamage gets charged, Boho and pukka up at Es Paradis. The minute i got back i flew to Switzerland to play in club Q which was awesome and BCM Mallorca. I have also been in the studio this year and have made a few tracks, my first track Sanctuary has just been signed to Miss Moneypennys. I am working on a few new bits at the moment as well

How did you get your foot in the door?
Talking to people on facebook / myspace and i knew a few people in the industry.
What's the best memory you have from behind the decks?
God there are so many, probably have to say Pacha in Moscow, the place was rammed and had a wicked atmosphere. Most recently playing Back to Back though, I play with another lady DJ Sam Bond at BCM, we bounced off eachother,I was buzzing.
Longest ever DJ set?
I played 3 different places in one night in Ibiza, 1 hour at Kanya, hour at linikers pre party, then 2 hours for Moneypennys at Boho, then went back on and played another hour for Moneypennys, was so tired went straight to the beach and slept haha.
What's your set up like at home?
My babies, still paying for them ops! CDj's Pioneer mk3′s, and a 600 mixer, gutted though as two channels have just decided to break

and my Imac its all about the Mac.
What advice do you have for any up and coming DJs?
Keep going, remember its a party, thats why you probably got into it, so many DJ's seem to get too serious and forget the reasons why they probably started playing in the first place!
Would you agree that you have to produce tracks now to get a name?
That seems to be the case at the moment, but i think Laptop Djing is also something that is helping people get a name as its new and exciting when used properly. I havnt even attempted it yet, but its something i might look into over the next few months.
What the largest venue you have played at this year?
umm not too sure either Es Paradis or BCM.
Who is your idle in the DJ world?
Carl Cox, James Zabiela, Carl Cox because he has been here since the begining and James Zabiela for his skills oooo and Richard Durand saw him at Judgement sundays at Eden he seriously rocked it.
What in your opinion does it take to be a world class DJ?
Someone who is really enthusiastic about their music, who holds the passion always, connects with the crowd as its different everytime, I like Dj's who play for the crowd not for themselves.
What do you use format do you use Cdj's or Vinyl? Also why?
CD just because i mainly learnt on them, they are cheaper and not as heavy

What are your top 3 tracks at the moment?
oooo tough one….. umm there have been quite a few this year, can i say 5? hehe

1.Phoenix- if i ever feel better, funkagenda mix,
2.Shirley Davis- you drive me wild, J Nitti remix
3.La Roux- Doing it for the Kill- Tristan Ingrams remix
4.we Shall prevail- kidd massive's audiodamage remix
5.Lack of a better name-Deadmau5
What do you think of the house music scene in the UK at the moment?
It seems to be changing all the time, everytime i go on beatport it feels like there has been a new genre of house added, its exciting, loads of ideas seaping through. Everywhere seems to be playing a lot more techno and tech house at the moment, house seems to becoming tougher. ~I feel a bit stuck as i love all house and dont want to link myself to just one certain style of house.
Where would you like to perform that you haven't yet?
A massive festival like Creamfields or Global Gathering. Privallage Ibiza.
In Your opinion who is the best DJ in the world?
I cant say, there are so many great DJ's, i like different Dj's for different reasons. Above and Beyond have always been pretty up there for me.
What do you do in your spare time?
Jump on the decks, try and go running but havnt been for ages and i mean ages, ops! trying to get back into that one.
Have you entered the Top 100 Djs competition?
huh?! didnt realise you had to enter i thought it was a case of if people like you they just vote your name……doh! better go and see……..
Latest Productions
Hayley Parsons – Changing Lanes (CDR)