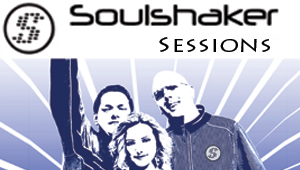 Soulshaker
Published On February 16, 2013 |
Artists
Soulshaker (aka Matt Meyers, Warren Meyers and Kelly Mueller) are now firmly established as being one of the hottest production, remix & DJ outfits in the World of dance Music.
Soulshaker have just been nominated for the prestigious 'MIA' Music Industry Award in the 'Best Dance Music Producer' category, after already winning the' Best Remix of 2008′ for their mix of Lindsay Lohan's 'Bossy' on Universal..
To date the guys have been a part of 12 No1 UK Club Chart Hits and around 50 top 40 UK dance Chart hits as well as some National Chart success. 2009 has started extremely well too, with Soulshaker so far being commissioned to remix 14 high profile releases for various Key labels (please see and hear Soulshaker's 2009 Remix and Production showreel at the bottom of this page). Some of the last 2 months remixes have been for Chaka Khan & Mary J Blige (SonyBMG US/Megafan), Keri Hilson (Timbaland/Universal), Robin S (Champion), Lindsay Lohan (Universal US), Alexander O'"Neal (EMI)", Wiz Khalifa (Warners), Judge Jules (Maelstrom), Crystal Waters (Trackworks US) and Shanie (AATW).
Soulshaker were also the only UK dance production team to be commissioned to remix the recent double Grammy award winning track '"Disrespectful" by Chaka Khan & Mary J Blige. In one week alone during March, the Soulshaker name was involved in no less than 14% of the tracks that made up the entire top 60 UK Music Week Dance Chart.
Over the last 2 years, Soulshaker have been hosting two major radio shows both here in the UK, and in the US. The guys were until recently part of the 'ÄòMinistry Of Sound'Äô radio team before leaving there to join the Lifted Radio roster, and presented a Weekly show called '"The Audiofreaks Sessions'" (Audiofreaks being the guys own production company name) every Sunday daytime from 2pm to 4pm before the Hed kandi show. The US show is every Friday night on Energy 92.7, where the guys present alongside the likes of Paul Oakenfold, John Digweed, Judge Jules & Carl Cox etc.
The guys are lucky enough to be friends with lots of the biggest names in the world of dance music, and so have called upon names like David Morales, Victor Simonelli, Benni Benassi, Soulseekerz, Ben Macklin, Timo Garcia, Grant Nelson, The Sharp Boys, Grant Nelson and Michael Gray etc to do guest mixes and interviews with them on their two radio show.
Not content to purely be known as writer/producer/Remixers & DJs, the Soulshaker guys also run a highly successful production and management company called "Audiofreaks" (www.audio-freaks.com), and actually own the World famous recording studio complex at London Bridge called '"The Vineyard", formerly known as '"The Hit Factory", where they now house names like Hed Kandi, Data, Mn2S, The Young Punx, Wez Clarke and Phonat, in their various recording studios.
Soulshaker are now just putting the finishing touches to their next few single releases, which all look destined to become Major Chart Hits. Soulshaker teamed up with Katherine Ellis for their next single release. Katherine Ellis is hot of the back of her Worldwide smash with the Freemasons, and the new single is by Soulshaker & Katherine Ellis with a track called 'Time To Play'. Also look out for Soulshaker releases with Major artists such as Steve Edwards (Bob Sinclair – World Hold On/Love Generation), CeCe Peniston – Finally etc), Shola Ama, Eric Bennet, Kristina Milian and Robbie Craig etc.
There are also plans to revisit and re-release their huge anthem 'Hypnotic Erotic Games', which originally signed to Gusto Records, was voted as being the second biggest dance track of 2006 after hitting the No1 spot in all the main club charts twice in one year.
The Soulshaker guys have also DJ'd all over the World for some of the Worlds hottest promoters and some of the best clubs including the MInistry Of Sound (where the guys to date have played around 40 times), Es Paradis, Space, Bar M, Camden Palace, Clockwork Orange, The Turnmills, Aquarium, Moneypenny's, Koko etc. Soulshaker's DJ sets are highly explosive and generally turn any dancefloor into a hands in the air frenzy.
Venues Played
Ministry, Turnmills, Es Paradis, Space, Aquarium, Koko, Clockwork Orange, Gallery