[PREVIEW] Pete Tong feat. S.Y.F. – Dawn [Defected]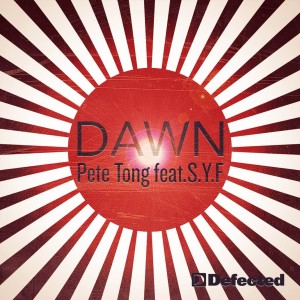 Pete Tong productions are a rare breed. A man that spends the majority of his life playing the worlds biggest clubs and festivals not to mention manning the mic of the World's most popular dance music radio show, you'd think he wouldn't have the time to actually get into the studio. Well the wait has certainly been worth it…'Dawn' see's Pete team up with S.Y.F aka Gasaida (Starving Yet Full) of acclaimed Azari & III fame to produce a deep vocal cut that drops nicely in time for the end of the Ibiza 2012 season.
Drafted in on remix duties is Leeds newest production talent: Hot Since 82. Straight off the back of his'Knee Deep In Louise' track released on Radio 1 co-horts Jaymo & Andy George's label Moda Black, here Daley strips the back the vocal and takes in into even deep territory perfectly complimenting Pete's original.
 'Dawn' out September 24. Don't miss this date!