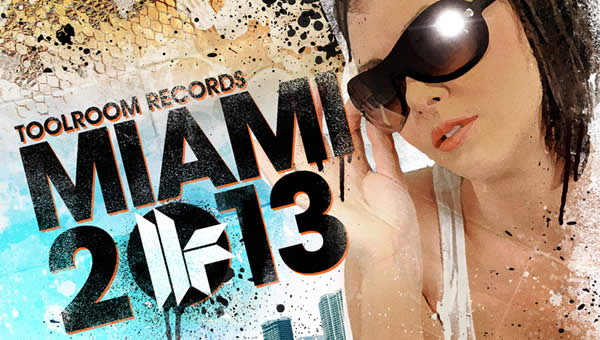 Toolroom Records Miami 2013
The Miami Winter Music Conference is back and with it Toolroom Records once again provides the essential soundtrack to this huge winter dance event with 'Toolroom Records Miami 2013'.
Cramming in a massive 47 fresh and upfront tracks, 'Toolroom Records Miami 2013' includes no less than 20 exclusives plus anthems from international superstar artists such as deadmau5, Sander Van Doorn, Maya Jane Coles, Eats Everything, Nicky Romero, Mark Knight and many more. Offering the full spectrum of house across 3 huge full-length mixes, soak up the winter season with another complete collection of Toolroom-approved grooves & Miami anthems.
Emanating chilled vibes from the off, the Poolside Mix' winter grooves come courtesy of Chopstick & Johnjon, Finnebassen, Shadow Child, Huxley, Submotion Orchestra, Duke Dumont, Hot Since 82 and Doorly amongst others. Turning up the heat, the Club Mix takes care of anthems from Dannic, Chuckie, Denzal Park and Dirty South. Plus with exclusives from Funkagenda, Cedric Gervais, Prok & Fitch and more, this mix is a pure-hands-in-the-air blend of the latest upfront and fresh monster club tracks. Completing the collection, the Afterclub Mix drives things to a tough conclusion with tech house rhythms from UMEK, Federico Scavo, Adrian Hour, Jay Lumen, DJ PP, Marco Lys, Rene Amesz and many more…
'Toolroom Records Miami 2013' Tracklist (Exclusives in Bold):
| | | |
| --- | --- | --- |
| Blacklight | Original Club Mix | Funkagenda |
| Thinking | Mark Knight Remix | Submotion Orchestra |
| Still The Same Man | Original Mix | Nicky Romero Feat. John Christian & Nilson |
| Flip | Original Club Mix | Cedric Gervais |
| 1981 | Mike Vale & Jerome Robins Remix | Deadmau5 |
| Justified | Original Club Mix | Prok & Fitch, Filthy Rich |
| Easier To Hide | Original Mix | Maya Jane Coles |
| The Giver | Locked Groove Remix | Duke Dumont |
| Touch Me (All Night Long) | Original Mix | Hoxton Whores vs Wish Feat. Fonda Rae |
| Joyenergizer | Original Mix | Sander van Doorn |
| Rift | Original Mix | Dirty South & Michael Brun |
| This | Original Club Mix | Federico Scavo |
| Phatty | Original Club Mix | Rene Amesz & Jasper Clash |
| Clobber | Original Club Mix | Dannic |
| Toys Are Nuts 2013 | Original Mix | Gregor Salto & Chuckie |
| All Week | Original Club Mix | Marco Lys |
| U & Me | Original Mix | My Digital Enemy |
| Rush | Original Mix | Doorly Feat. Soraya Vivian |
| So High | Hot Since 82 Remix | Shadow Child |
| No Matter What | Original Mix | Huxley |
| You | Original Club Mix | Bordertown |
| You Will Never Sleep | Jay Shepheard Remix | Finnebassen Feat. Gundelach |
| Doldrums | Original Mix | Eats Everything |
| Mamita's | Original Club Mix | DJ PP, Gabriel Rocha |
| La Corriente | Original Club Mix | Mario Ochoa |
| Raw Basses | Original Mix | Jay Lumen |
| How Does It Feel | Original Club Mix | Matt Smallwood |
| Worbles Werbles | Original Club Mix | James Talk |
| CTSO | Original Club Mix | Joan Reyes |
| Eric Goes To Disco | Original Club Mix | Beltek |
| Yarl | Original Mix | Denzal Park |
| Can You Feel It | Original Mix | Lunde Bros |
| Gold | Original Club Mix | Capa |
| Saudade | Original Club Mix | Andre Sobota |
| Zdarlight | Chopstick & Johnjon Remix | Digitalism |
| Call Me | BRONX Remix | Chordashian |
| Let You | Original Mix | Crek |
| You Make Me Feel Good | Original Mix | Satin Jackets |
| Hot Rabbits | Original Mix | Giom |
| Good Love Sweet Love | Shadow Child Remix | Zoë Xenia & Cari Lekebusch |
| You Get Used To All The Madness | Original Mix | UMEK & Siwell |
| Remain Seated | Original Club Mix | Adrian Hour |
| Safari | DJ Chus Iberican Mix | Hollen |
| A Certain Kind Of Something | Original Club Mix | Simon Doty |
| Baby Back | Original Mix | Deep City Groove |
| Leap Of Faith | Original Club Mix | Brett Gould |
| The Way I See | Pete Oak Remix | Rob Made Feat. Pete Simpson |
| Toolroom Records Miami 2013 | Poolside Mix | Various Artists |
| Toolroom Records Miami 2013 | Club Mix | Various Artists |
| Toolroom Records Miami 2013 | Afterclub Mix | Various Artists |