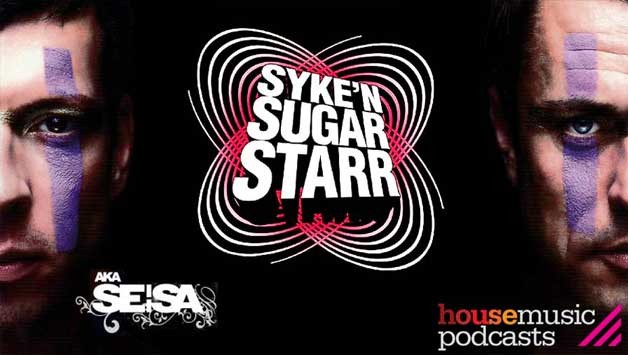 Syke'n'Sugarstarr – Do The Hip! Radioshow #227
Podcast: Play in new window | Download (Duration: 1:01:26 — 141.3MB)
Subscribe: RSS
HouseMusicPodcasts Notice:
Would like to let you know that Syke'n'Sugarstarr will be having a well
deserved break from the radio show for the next 3 weeks and only doing live gigs …
The next Do The Hip! shows are scheduled for these dates:
29.08. Do The Hip! with SESA in the mix
05.09. Do The Hip! with SUGARSTARR in the mix
Enjoy the show and we look forward to the forthcoming in a few weeks time…
Thanks,
The Team at HMP.
_________________________________________________
Do The Hip! Radioshow #227
mixed & hosted by SUGARSTARR (Syke'n'Sugarstarr)
August 7th 2013
Tracklist:
1. Rampa & S.Y.F. – Where Did I Go Wrong (Original Mix)
2. Francesco Rossi – Paper Aeroplane (Milk & Sugar Remix)
3. Caruso Swiss & Kenny Ground feat. Toto La Momposina – La Jicotea (Simone Vitullo Remix)
4. Haze vs Ron Costa & Compact Grey – Around The Bane (Noir Maship Treatment)
5. Dennis Ferrer ft. Janelle Kroll – Mind Ur Step
6. Jamie Lewis ft. Michael Watford – For You (Dario D'Attis Purplezed ReWork)
7. Sasse – Eagle Eyes (Rob Mello's No Ears Mix)
8. Reset Safari – Warehouse Vision
9. Electronic Youth feat. Kele Le Roc – Don't You Know (Will Clarke Remix)
10. Chus & Ceballos & Mihalis Safras – The Break (Sugarstarr Radio-Edit)
11. Kaiserdisco – Get On Down
12. Lissat & Voltaxx – Closer To Me (Mike Vale Remix)
13. Dani Villa & Rodri Vegas – Killer Queen
14. Steve Silk Hurley – Jack Your Body (S&S Remix / Doorly Club Rub)
15. Phunk Investigation & Groovebox – Strictly Funk