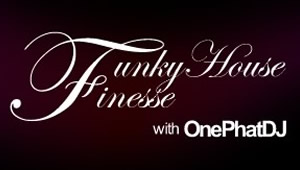 During the early 90s, One Phat DJ (otherwise known as Si Jobling) discovered the infectious sound of acid house. Raving was turning mainstream but it was the soulful Chicago house tracks from acts like Degrees of Motion and Brand New Heavies that were grabbing his attention.
His love for house music grew over time, as did his collection of material, taking inspiration from creative DJs like Fatboy Slim and Armand Van Helden along the way. It wasn't until 1998 when Si got his first set of DJing equipment – from that moment on, Si was hooked.
As he travelled north to Stoke-on-Trent, Si joined the university DJ society and quickly landed gigs around the city, building a loyal fanbase of his trademark mixing style.
Some of the purists weren't sure of his technical ability but the track selection and unique mixing style gave him a foothold in what was quite a diluted market.
Over the coming years, Si continued to DJ in local bars and clubs around the Midlands, keeping his fanbase intimate and loyal. In 2005, after a few years break, Si setup his first podcast – one of the first music podcasts to feature on iTunes – which went on to international acclaim.
With over 2,500 regular subscribers to the podcast, including recognition from industry pioneers such as Hed Kandi founder, Mark Doyle, and the MD of Box TV, Gidon Katz. The podcast was regularly highlighted as a Featured item on iTunes as well as spreading across the internet around popular social networks like Facebook, MySpace and Twitter.
It was clear that Si had established a successful position in the DJing circuit.
Unfortunately, in 2008 the podcast came to an abrupt end due to personal reasons but Si was determined to continue the success of the winning formula, harnessing the power of viral social media as well as promoting fresh funky house music to the masses. He created the Funky House Finesse project and released it in February 2009.
With huge support from artists, labels, fellow DJs and his loyal fanbase as well as joining the elite crowd of Lifted Radio DJs, things are certainly looking up for One Phat DJ.
Website: