[PREVIEW] The Aston Shuffle vs Tommy Trash – Sunrise (Won't Get Lost) [Axtone]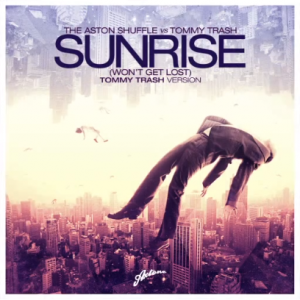 After a short break from releases during the European summer, Axtone get back to what they do best; releasing quality music from the across the globe. 'Sunrise (Won't Get Lost)' brings together the skills of The Aston Shuffle and the infamous Tommy Trash, fresh from another collaboration (and Beatport No.1), 'Reload' with Sebastian Ingrosso on the Mafioso's Refune record label.
Having heavily supported Tommy's productions in his sets recently, it was only a matter of time before Axwell snapped something up from the now LA-based trailblazer. The Aston Shuffle are no new name to Axwell's USB either, their single 'Start Again', a moment of pure pop/dance bliss armed with a remix from compatriot Hook N Sling, featured heavily in his sets last year.
Previously known as 'Won't Get Lost', the single was a number one on Australia's Triple J radio, providing the soundtrack to the Australian summer and cementing The Aston Shuffle's position as the next wave of the 'Australian Invasion'. It was at this point a certain Mr Trash got involved. Starting off as a remix of a song he loved, his production ended up flipping the record on its head, turning it into an electronic masterpiece. In this guise it was given its debut, live on Radio 1′s broadcast from Ushuaia, Ibiza during Axwell's 'hot mix'. Further tweaks were then made with Axwell's A&R skills, yet again finding that extra 10% that makes good records great.