[PREVIEW] Sander van Doorn & Julian Jordan – Kangaroo (Official Music Video) – Doorn Records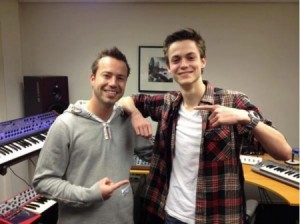 Typed on #1 place in Ibiza Buzz Chart by DMC world Magazine and gained huge support before official release. We are talking about new track from Sander Van Doorn & Julian Jordan! 16 years old youngster teams up with his protegee and genuine Dutch Dj & Producer. Two fellows blend their style in new untitled yet track. Both of artists have massive start of 2012. Sander with just released progressive anthem 'Nothing Inside' and Julian, having his already hyped upcoming track titled 'Oxford' and his successful song 'Rock Steady' that got support from the major Dutch DJ's.
Whole structure of this collaboration is massive. Twisting progressive synth into a huge electro driving bass line with dubstep elements. Real crowd pleaser which cause instant panic on the floor. As Sander Van Doorn already establisihed his name inside electronic industry 16 years old Julian Jordan is starting his music career. World watch out for this young talent!
To be released very soon on Doorn Records!
Julian Jordan :
Facebook: http://on.fb.me/JulianJordan
Twitter: http://twitter.com/itsjulianjordan
Vote for Sander in the 2012 DJMag Top100 Now! http://djmag.com/top100
Sander van Doorn :
Facebook: http://on.fb.me/SandervanDoorn
Twitter: http://twitter.com/SandervanDoorn
Spinnin' Records
Facebook: http://facebook.com/SpinninRecords
Twitter: http://twitter.com/SpinninRecords
http://youtube.com/spinninTV presents: Sander van Doorn & Julian Jordan — Kangaroo (Official Music Video)
Video created by: http://WWW.MARKLOONEN.NL
Camera: Shane Muller, Michiel van de Zandt, Etienne Manuhuwa
Aerials : http://www.lookdown.nl
Recorded at Emporium Festival 2012, The Netherlands