[ALBUM] Hed Kandi – A Taste Of Kandi: Summer 2012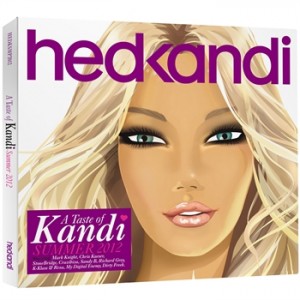 Summer is here and so are we with a tasty mini mix to whet your appetite for this year's enormous Ibiza season. The Hed Kandi samplers are extremely popular across UK and globally, edited into a bite size-collection of highlights from our latest upcoming albums and singles.
We return with our world famous summer sampler, A Taste of Kandi: Summer 2012, handpicked for you. This release is a deliciously stylish selection of goodness sampling a host of Kandi flavours.
This uplifting single CD mix features Hed Kandi favourites by A-List producers including Mark Knight, Chris Kaeser, Stonebridge, Crazibiza, Sandy B, Richard Grey, Reza & K-Klass, My Digital Enemy and Dirty Freek to name a few. Hed Kandi presents a custom made mix for the sunshine and showcases a sunlit spectrum of music to enjoy any time of the year.
Track Listing:
01 – Steve K & Anna Rizzo – I Am Nothing (Shane D Remix)
02 – Mark Knight – Together Original Club Mix
03 – Niels Van Gogh Vs. Daniel Strauss Feat. Ashley Slater – Stop The Time (Coqui Selection Remix)
04 – K-Klass & Reza – Let The Freak
05 – Mike Newman & Antoine Cortez – Come With You (Carl Crème & Reza Remix)
06 – Garrett & Ojelay – Do It Right (Dave Kurtis Remix)
07 – My Digital Enemy – Ware's The House (Original Mix)
08 – Blacksoul – Be Right (Garrett & Ojelay Remix)
09 – Richard Grey & Nari & Milani Feat. Alexandra Prince – Mas Que Nada (Garrett & Ojelay Remix)
10 – Sandy B – Make The World Go Round (Garrett & Ojelay 2012 Remode)
11 – Crazibiza Vs Garrett & Ojelay – Dirty Guitarra
12 – Les Schmitz & Alex Del Amo – The Crusader (Original Remix)
13 – Chris Kaeser, StoneBridge & Krista Richards – Love Me (Garrett & Ojelay Remix)
14 – ASBO Feat. Katherine Ellis – Let The Beat Hit 'Em (Garrett & Ojelay Remix)
15 – Dirty Freek – Someday (Frater & Stent Remix)
Release Date: 15th July 2012
Label: Hed Kandi