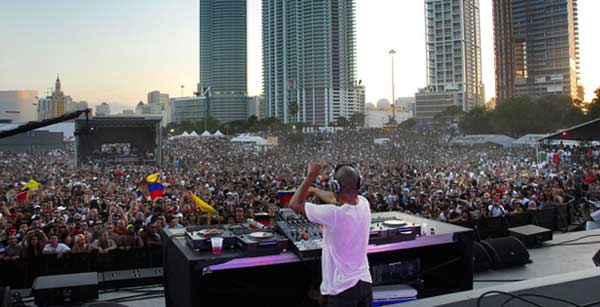 Ultra Music Festival 2013 Set Times
Ultra Music Festival 2013 in Miami has revealed its set times for both weekends.
Swedish House Mafia will begin the final leg of their One Last Tour on the first Friday, whilst Fatboy Slim will be the last to hit Carl Cox's stage.
Saturday will see some of the biggest acts in dance music with Deadmau5, Kaskade and Hardwell being just some of the names lined up for the latter part of the main stage line-up.
Armin van Buuren will take to the stage on the first Sunday and the event will welcome back Tiesto, Avicii and Carl Cox for both weekends.
Check out the full list set times below.
FRIDAY 15 MARCH
MAIN STAGE
10:30pm-12:00 Swedish House Mafia
9:00pm-10:00pm Afrojack
7:55pm-8:55pm Fedde Le Grand
6:55pm-7:55pm Nicky Romero
5:55pm-6:55pm Cazzette
5:00pm-5:55pm Helena
CARL COX & FRIENDS
10:30pm-12:00 Fatboy Slim
8:30pm-10:30pm Carl Cox
7:15pm-8:30pm John Digweed
6:00pm-7:15pm Jamie Jones
5:00pm-6:00pm Cassy
LIVE STAGE
11:00pm-12:00 Nicolas Jaar
10:00pm-10:50pm Crystal Castles
8:20pm-9:35pm Boys Noize
7:10pm-8:00pm Modestep
6:50pm-7:10pm White Noise
6:00pm-6:50pm AraabMuzik
5:00pm-5:45pm Goldfish
ULTRA BUENOS AIRES
11:00pm-12:00 Paul van Dyk
10:00pm-11:00pm ATB
9:00pm-10:00pm Dash Berlin
8:00pm-9:00pm Ferry Corsten
7:00pm-8:00pm Markus Schulz
6:00pm-7:00pm Tritonal
5:00pm-6:00pm Norin & Rad
MIXMAG
11:00pm-12:00 Dubfire
10:00pm-11:00pm Carlo Lio
9:00pm-10:00pm Ida Enberg
8:00pm-9:00pm Green Velvet
7:00pm-8:00pm Josh Wink
6:00pm-7:00pm Steve Bug
5:00pm-6:00pm Elio Riso
BASS STATION
11:00pm-12:00 DJ Marky
10:00pm-11:00pm Tantrum Desire
9:00pm-10:00pm Drumsound & Bassline Smith
8:00pm-9:00pm Dieselboy
7:00pm-8:00pm Black Sun Empire
6:00pm-7:00pm Matrix & Futurebound
5:00pm-6:00pm Concord Dawn
ECO VILLAGE
11:00pm-12:00 Krafty Kuts
10:00pm-11:00pm Plump DJs
9:00pm-10:00pm Baby Anne
8:00pm-9:00pm DJ Icey
7:00pm-8:00pm Dzeko & Torres
6:00pm-7:00pm Alex Gaudino
5:00pm-6:00pm Spaceman
SATURDAY 16 MARCH
MAINSTAGE
10:45pm – 12:00 Deadmau5
9:20pm – 10:20pm Kaskade
8:05pm – 9:05pm Knife Party
7:00pm – 8:00pm Hardwell
6:00pm – 7:00pm Porter Robinson
5:00pm – 6:00pm Madeon
4:00pm – 5:00pm Flux Pavilion & Doctor P
3:00pm – 4:00pm Borgore
2:00pm – 3:00pm Datsik
1:00pm – 2:00pm Tommie Sunshine
12:00 – 1:00pm Miss Nine
CARL COX & FRIENDS
10:00pm – 12:00 Richie Hawtin
8:00pm – 10:00pm Carl Cox
6:00pm – 8:00pm TBA
4:00pm – 6:00pm Tania Vulcano
2:00pm – 4:00pm Nicole Moudaber
12:00pm – 2:00pm Uto Karem
LIVE STAGE
11:00pm – 12:00 Infected Mushroom
9:40pm – 10:40pm Faithless
8:20pm – 9:20pm Pretty Lights
7:00pm – 8:00pm Yeasayer
5:30pm – 6:30pm Thievery Corporation
4:10pm – 5:00pm Matt & Kim
3:00pm – 3:50pm Disclosure
1:50pm – 2:40pm Azari & III
12:40pm – 1:30pm Icona Pop
12:00pm – 12:20pm White Noize
ULTRA EUROPE
11:00pm – 12:00 Benny Benassi
10:00pm – 11:00pm Martin Solveig
9:00pm – 10:00pm Laidback Luke
8:00pm – 9:00pm Dirty South
7:00pm – 8:00pm Sander van Doorn
6:00pm – 7:00pm Bingo Players
5:00pm – 6:00pm Chuckie
4:00pm – 5:00pm Nervo
3:00pm – 4:00pm – Sunnery James & Ryan Marciano
2:00pm – 3:00pm Walden
1:00pm – 2:00pm Camilo Franco
12:00pm – 1:00pm Project 46
BEDROCK
10:45pm – 12:00 Marco Bailey
9:30pm – 10:45pm Christian Smith
8:15pm – 9:30pm Pig & Dan
7:15pm – 8:15pm Henry Saiz Live
5:15pm – 6:15pm Quivver
4:15pm – 5:15pm Jozif
3:00pm – 4:15pm John Digweed
2:00pm – 3:00pm Stelious Vassiloudis
1:00pm – 2:00pm Edu Imbernon
12:00 – 1:00pm Christopher James
OWSLA
9:00pm – 12:00 Alvin Risk
8:00pm – 9:00pm Jack Beats
7:00pm – 8:00pm The M Machine
6:00pm – 7:00pm Birdy Nam Nam
5:00pm – 6:00pm Koan Sound
4:00pm – 5:00pm Seven Lions
3:00pm – 4:00pm Alex Metric
2:00pm – 3:00pm Nick Thayer
1:00pm – 2:00pm Kill Paris
12:00pm – 1:00pm Blood Diamonds
ECO VILLAGE
11:00pm – 12:00 – Mykris
10:00pm – 11:00pm Jimmie Page
9:00pm – 10:00pm Jason Daniel
8:00pm – 9:00pm Marvin Delgado
7:00pm – 8:00pm Roman Nicolai
6:00pm – 7:00pm Kinesis
5:00pm – 6:00pm Hil Huerta
4:00pm – 5:00pm Rodrgio Vieira
3:00pm – 4:00pm Thomas Turner
1:00pm – 2:00pm Co-Op
12:30pm – 1:00pm Professor Genius Brains
12:00pm – 12:30pm Valarezo
SUNDAY 17 MARCH
MAIN STAGE
10:00pm-11:00pm Armin van Buuren
8:55pm-9:55pm Above & Beyond
7:50pm-8:50pm Bassnectar
6:45pm-7:45pm Zedd
5:45pm-6:45pm Steve Aoki
4:45pm – 5:45pm Wolfgang Gartner
3:45pm – 4:45pm Tommy Trash
2:45pm – 3:45pm Arty
1:45pm-2:45pm Otto Knows
12:45pm-1:45pm Deniz Koyu
12:00pm-12:45pm Classixx
SPACE IBIZA:
9:30pm-11:00pm David Guetta
8:00pm – 9:30pm Tiesto
6:30pm-8:00pm Avicii
5:30pm-6:30pm Calvin Harris
4:00pm-5:00pm Eric Prydz
3:00pm-4:00pm Alesso
2:00pm-3:00pm Thomas Gold
1:00pm-2:00pm Danny Avila
12:00pm – 1:00pm Alvaro
LIVE STAGE:
10:00pm-11:00pm Booka Shade Live
8:40pm – 9:40pm The Weeknd
7:20pm-8:20pm Snoop Dogg
6:00pm-7:00pm Major Lazer
4:50pm-5:40pm Azealia Banks
3:30pm-4:30pm Krewella
2:10pm-3:10pm Rudimental
1:50pm-2:10pm Kidnap Kid
1:10pm – 1:50pm Lexz Pryde
12:00pm-12:50pm Space Ghost Purp
ULTRA CHILE
10:00pm-11:00pm Zeds Dead
9:00pm-10:00pm Sub Focus
8:00pm-9:00pm Rusko
7:00pm-8:00pm Dillon Francis
6:00pm-7:00pm Crookers
5:00pm-6:00pm Dog Blood
4:00pm-5:00pm Flosstradamus
3:00pm-4:00pm 12th Planet
2:00pm-3:00pm Adventure Club
1:00pm-2:00pm French Fries
12:00pm – 1:00pm Samo Sound Boy
SURFACE
10:00pm-11:00pm Claude Vonstroke
9:00pm-10:00pm Maceo Plex
8:00pm-9:00pm Maya Jane Coles
7:00pm-8:00pm Magda
6:00pm-7:00pm Art Department
5:00pm-6:00pm Guy Gerber
4:00pm-5:00pm Totally Enormous Extinct Dinosaurs
1:30pm-4:00pm Wolf Lamb vs Soul Clap
12:00pm-1:30pm Dusky
TOOLROOM KNIGHTS
9:30pm-11:00pm Mark Knight
8:30pm-9:30pm Sander Kleinenberg
7:30pm-8:30pm Chus & Ceballos
6:30pm-7:30pm Butch
5:30pm-6:30pm Friendly Fires
4:30pm-5:30pm Mihalis Safras
3:30pm-4:30pm Prok & Fitch
1:30pm-2:30pm Phunk Investigation
12:00pm-1:30pm Mark Storie
ECO VILLAGE
10:00pm-11:00pm Wyzzard
9:00pm-10:00pm Afrobeta
8:00pm-9:00pm Nate Campbell
7:00pm-8:00pm RiotGear
6:00pm-7:00pm Yolanda Be Cool
5:00pm-6:00pm Miss Melera
4:00pm-5:00pm Bass Control
3:15pm-4:00pm SoundSex
2:30pm-3:15pm Los De La Vega
1:45pm-2:30pm TakShak
1:00pm-1:45pm Quentin Mosimann
12:00pm-1:00pm y100
FRIDAY 22 MARCH
MAIN STAGE
10:30-12:00 Tiesto
9:00-10:15 Avicii
7:50 – 8:50 Eric Prydz
6:45-7:45 Martin Solveig
5:50-6:45 R3hab
5:00-5:50 Swanky Tunes vs Hard Rock Sofa
CARL COX & FRIENDS:
10:30-12:00 Luciano
8:30-10:30 Carl Cox
7:00-8:30 Adam Beyer
6:00-7:00 Umek
5:00-6:00 Yousef
LIVE STAGE:
11:00-12:00 Bloody Beetroots Live
9:20-10:35 Boys Noize
8:00-9:00 Sleigh Bells
6:30-7:30 Matt & Kim
6:10-6:20 Kerli
5:00-6:10 Capital Cities
ULTRA BRASIL:
11:00-12:00 Afrojack
10:00-11:00 Kaskade
9:00-10:00 Fedde Le Grand
8:00-9:00 Nicky Romero
7:00-8:00 Cazzette
6:00-7:00 Deniz Koyu
5:00-6:00 Bambi
UNDERGROUND STORY:
11:00-12:00 Carl Craig
10:00-11:00 Nina Kraviz
9:00-10:00 Stacey Pullen
8:00-9:00 Kevin Saunderson
7:00-8:00 Audiofly
6:00-7:00 Radio Slave
5:00-6:00 Paul Woolford
JACKED:
11:00-12:00 Quintino
10:00-11:00 Sidney Samson
9:00-10:00 Bobby Burns
8:15-9:00 Shermanology
7:30-8:15 Leroy Styles
6:30-7:30 Nick van de Wall
5:45-6:30 Bassjackers
5:00-5:45 Gregor Salto
ECO VILLAGE:
11:00-12:00 Krafty Kuts
10:00-11:00 Plump DJs
9:00-10:00 Baby Anne
8:00-9:00 DJ Icey
7:00-8:00 Proxxy & Lantern
6:00pm-7:00pm Brazen
5:00 pm-6:00pm Trip Therapy
SATURDAY 23 MARCH
MAIN STAGE
10:45-12:00 Deadmau5
9:20-10:20 David Guetta
8:00-9:00 Calvin Harris
6:55-7:55 Fatboy Slim
5:45-6:45 Benny Benassi
4:45-5:45 Laidback Luke
3:45-4:45 Chuckie
2:45-3:45 Rusko
1:45-2:45 Cedric Gervais
1:00-1:45 Adrian Lux
12:00-1:00 Mykris
CARL COX & FRIENDS
10:00pm-12:00 Sven Vath
8:00pm-10:00pm Carl Cox
6:00pm-8:00pm Richie Hawtin
4:00pm-6:00pm Cirez D
2:00pm-4:00pm Magda
12:00pm-2:00pm Just Be
LIVE STAGE:
9:30pm-10:30pm Faithless
8:10pm-9:10pm Booka Shade Live
6:50pm-7:50pm Yeasayer
5:20pm-6:20pm Thievery Corporation
4:00pm-4:50pm Disclosure
2:50pm-3:40pm Azari & III
1:40pm-2:30pm Robert DeLong
1:20pm-1:40pm White Noize
12:30pm-1:20pm Icona Pop
12:00pm-12:20pm Afrobeta
DROP ZONE:
11:00pm-12:00pm Borgore
10:00pm-11:00pm Bassnectar
9:00pm-10:00pm Flux Pavilion vs Doctor P
8:00pm-9:00pm Sub Focus
7:00pm-8:00pm Zeds Dead
6:00pm-7:00pm Krewella
5:00pm-6:00pm Andy C
4:00pm-5:00pm Kill The Noise
3:00pm-4:00pm 12th Planet
2:00pm-3:00pm Datsik
1:00pm-2:00pm Adventure Club
12:00pm-1:00pm Delta Heavy
SPACE IBIZA
11:00pm-12:00 Robert Dietz
10:05pm-11:00pm George Fitzgerald
9:10pm-10:05pm Tiga
8:15pm-9:10pm Scuba
7:20pm-8:15pm Steve Lawler
6:25pm-7:20pm Nic Fanciulli
5:30pm-6:25pm Joris Voorn
4:35pm-5:30pm David Squillace
3:40pm-4:35pm Martin Buttrich
2:45pm-3:40pm TINI
1:50pm-2:45pm Guti
12:55pm-1:50pm Anna Lunoe
12:00pm-12:55pm Remo
TRAPPED:
11:00pm-12:00 Dillon Francis
10:00pm-11:00pm Flosstradamus
9:00pm-10:00pm Baauer
8:00pm-9:00pm Mimosa
7:00pm-8:00pm Nadastrom
6:00pm-7:00pm UZ
5:00pm-6:00pm Bro Safari
4:00pm-5:00pm DJ Craze
3:00pm-4:00pm Green Lantern
2:00pm-3:00pm Carnage
1:00pm-2:00pm Gladiator
12:00pm-1:00pm KCIS
ECO VILLAGE:
11:00pm-12:00pm MakJ
10:00pm-11:00pm Nari & Milani
9:00pm-10:00pm Thomas Penton
8:00pm-9:00pm Beltek
7:00pm-8:00pm PHNTM
5:00pm-6:00pm Rod B & Re Dupre
4:00pm-5:00pm Pedro M
3:00pm-4:00pm Spinn Zinn & Sanedrac Hunter
2:15pm-3:00pm Dragon & Jontron
1:30pm-2:15pm DJ Koss
12:45pm-1:30pm Luca Fromusa
12:00pm-12:45pm L'dour & David Hopperman
SUNDAY 24 MARCH
MAIN STAGE
9:30pm-11:00pm Swedish House Mafia
8:00pm-9:00pm Alesso
7:00pm-8:00pm Dirty South
6:00pm-7:00pm Sander van Doorn
5:00pm-6:00pm Bingo Players
4:00pm-5:00pm Thomas Gold
4:00pm-5:00pm Sunnery James & Ryan Marciano
2:00pm-3:00pm Nervo
1:00pm-2:00pm Sultan & Ned Shepard
12:00pm-1:00pm Danny Avila
ASOT 600
10:00pm-11:00pm Paul van Dyk
9:00pm-10:00pm Ferry Corsten
7:30pm-9:00pm Armin van Buuren
6:00pm-7:30pm Above & Beyond
5:00pm-6:00pm Markus Schulz
4:00pm-5:00pm Dash Berlin
3:00pm-4:00pm ATB
2:00pm-3:00pm Cosmic Gate
1:00pm-2:00pm W&W
12:00pm-1:00pm Tritonal
LIVE STAGE
10:00pm-11:00pm Crystal Castles
8:30pm-9:30pm Pretty Lights
7:10pm-8:10pm Snoop Dogg
5:50pm – 6:50pm Major Lazer
4:40pm – 5:30pm Azealia Banks
3:30pm-4:20pm Modestep
2:20pm – 3:10pm DJ Fresh Live
1:00pm-2:00pm The 2 Bears
12:00pm-12:50pm Miss Nine
ULTRA KOREA
10:00pm-11:00pm Wolfgang Gartner
9:00pm-10:00pm Tommy Trash
8:00pm-9:00pm Knife Party
7:00pm-8:00pm Hardwell
6:00pm-7:00pm Steve Aoki
5:00pm-6:00pm Porter Robinson
4:00pm-5:00pm Zedd
3:00pm-4:00pm Style of Eye
2:00pm-3:00pm Clockwork
1:00pm-2:00pm DJ Koo
12:00pm-1:00pm Big Bad Noise
SURFACE
10:00pm-11:00pm Damian Lazarus
9:00pm-10:00pm Art Department
8:00pm-9:00pm Seth Troxler
7:00pm-8:00pm Lee Foss
6:00pm-7:00pm Subb-an
5:00pm-6:00pm Miguel Campbell
4:00pm-5:00pm Justin Martin
3:00pm-4:00pm Danny Daze
1:30pm-3:00pm Droog
12:00pm-1:30pm Francesca Lombardo
TOOLROOM KNIGHTS
10:00pm-11:00pm Funkagenda
9:00pm-10:00pm Stefano Noferini
7:30pm-9:00pm Mark Knight
6:30pm – 7:30pm Wally Lopez
5:30pm-6:30pm Riva Starr
4:30pm-5:30pm Fedrico Scavo
3:30pm-4:30pm Forza
2:30pm-3:30pm Mihalis Safras
1:30pm-2:30pm Wehbba
12:00pm-1:30pm Pete Griffiths
ECO VILLAGE
10:00pm-11:00pm Metaphysical
9:00pm-10:00pm Kyroman The Robot
8:00pm-9:00pm Aleksus Sanchez
7:00pm-8:00pm Nate Campbell
6:00pm-7:00pm Ranidu
5:00pm-6:00pm Ideal & J-break
4:00pm-5:00pm Bishope Magentic
3:00pm-4:00pm Dabura
2:15pm-3:00pm Andrew Parsons
1:30pm-2:15pm Shwann
12:45pm-1:30pm Noomi Ra
12:00pm-12:45pm Richard Fraioli