Sharam – new compilation "Night & Day" Yoshitoshi
On July 16, dance music icon Sharam returns with his much anticipated new mixed compilation, Night & Day on Yoshitoshi Recordings. Night & Day is the follow-up to Sharam's critically acclaimed genre bending 2011 Warung Beach compilation and a unique look into the musical world of one of dance music's most revered artists.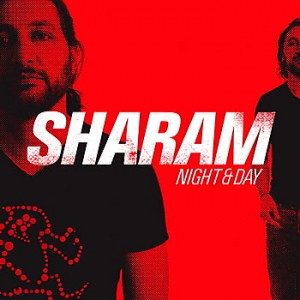 Anyone who's attended a daytime DJ set recognizes that the party vibe when the sun is shining is completely different than what you experience late night in the club. Night & Day is split into two mixes that reflect Sharam's unique approach to DJing parties both during the day and at night. After an extensive search through hundreds of tracks, Sharam's ready to present his collection of the best-produced, cutting-edge music that works perfectly 24/7.
Night & Day features Sharam's brand new original production "Radio G" (out July 9 and featuring special "Night" and "Day" mixes) & FTDK mix of his head turning track "God Always," as well as exclusive edits, mashups and tracks/remixes from the likes of, Maceo Plex, Umek, Zeds Dead, Avicii, Shermanology, Nicole Moudaber, Dirty South, Armand Van Helden, Extrawelt, Monstar, Dirty Loud, Heren, Marco Bailey, Boris Dlugosh and more "With Night & Day my aim was twofold: represent each type of party and its musical players (the artists, producers and remixers) and showcase what I do when I play this type of set to not only represent good music as I see it, but also to create a dialogue that music should not be played based on one's allegiance to a genre, but based on one's allegiance to the art form. The art of DJing for me has always been about creating a "party" and entertaining while educating the crowd with one goal in mind. People leaving with smiles on their faces… I hope that I've achieved that with this CD," Sharam says.
Sharam is one of only few dance artists who effortlessly navigates between the nocturnal world of dance music with underground gems like "Crazi", "Texi" and "Don't Say A Word" while scoring Top 20 Hits internationally with "PATT (Party All The Time)", "The One" feat. Daniel Bedingfield, and "She Came Along" with Kid Cudi. In 2011 he unleashed his Mach EP releases that include "Love Love Love", "M.I.T.T.", an underground favorite featuring a powerful vocal hook from Shakira, and "Fun" a song written by Chris Martin of Coldplay. More recently Sharam unleashed WMC head turner "God Always" and "Que Cubano"
Already beyond well known for his role as part of the legendary DJ duo Deep Dish, which brought the world huge hits like "Flashdance" and "Say Hello", he is also the driving force behind the legendary Yoshitoshi record label using it as a vehicle to promote newly discovered talent from around the world.
Sharam – Night & Day Tracklisting
Night
1. Heren – Never Let Me Go
2. Sharam feat Anousheh – Our Love (Sharam Leftfield Mix)
3. Gaetano Parisio – Needing Chords (Rino Cerrone Remix)
4. Tom Hangs Feat. Shermanology – Blessed (Avicii Edit)
5. Dubsidia – Kill Humans (Dirtyloud Remix)
6. Heren – Rock
7. Sharam – Radio G (Night Mix)
8. Heren Pres. Detsl & Pete Milz – I Got Angels
9. Monstar – Kilo c/w Miike Snow – Devil's Work (Dirty South Remix) [SHARAM MASH-UP]
10. Sharam – God Always
11. Uto Karem – Utopolys c/w Sneaker Pimps – Spin Spin Sugar (Armand's Dark Garage Mix) [SHARAM MASH-UP]
12. Federico Scavo, Danny Freakazoid & Strobe – Feroda
13. Mat Zo & Arty – Mozart
14. Coll Selini – Essential Love (Hot Pink Delorean Remix)
15. Rawrberry – Let's Kill Gravity
16. DYNO – Zero Punto Uno
17. Zeds Dead – Undah Yuh Skirt Feat. Mavado
18. Knight Riderz – 1up
Day
1. Martin Dawson Feat. NRG – Think About It (Maceo Plex Remix)
2. Bart Skils – Walking At My Girl
3. Andhim – Wallace
4. Ahmet Sendil – El Baile (Dub)
5. Umek, Stefano Noferini – Goes On
6. Stan Garac – La Dolce Vitta
7. Hellomonkey – Muhammad Ali
8. Dandi & Ugo – Drugs (Frank Sonic & L-EX Remix)
9. John Lagora – Maersk
10. Sinisa Tamamovic – After All Bad Things (Pirupa Remix)
11. Prince Club – Love Strong
12. Sharam – Que Cubano (Nicole Moudaber Remix)
13. Extrawelt – Swallow The Leader
14. Maetrik – The Reason
15. Luis Junior – Playa (Version 2 Mix)
16. Marco Bailey – Greedy Convention
17. Olivier Giacomotto – Leche de Tigre
18. Boris Dlugosch – Keep Pushin
http://sharam.com/
http://www.myspace.com/sharamdish