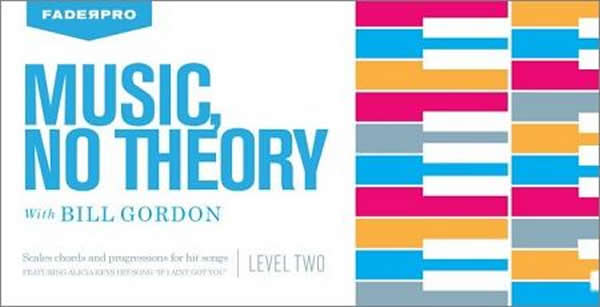 The Art of producing Hit records
It's all about the Music, Not the Theory.. –  Bill Gordon
The Art of producing Hit records….simply w Bill Gordon by FaderPRO.com
If you ask Bill Gordon the secrets in creating that perfect melody that will make you, "David Guetta Famous", he will most likely respond simply with, "Know your scales…know em and know em well or you're cooked" (with a smirk)!
Not just a legendary globe traveling concert pianist, not just a Berkley grad & SAE professor, not just tied to names like Barbra Streisand, Quincy Jones & Madonna but also simply, a "Real Guy" that has more passion to teach and help others understand the art of making music then any other man I've ever met.
FaderPRO, the leaders in music production courses online, teamed up with Bill Gordon to create what was once (and still is) Bill's manuscript of Making Music, Not Theory, (hence the title to the course Music, No Theory).  After meeting Vincent di Pasquale at SAE's Miami campus while they both were teaching at the school (Vincent being a graduate & past professor), Bill shared with Vincent the idea of a music book that he had been accumulating & curating for several years, and it was there that the teams sat down to bring this "book" of music and quite possibly the Nobel Peace Prize of making music, to LIFE! The catch was, do we really want it to become a book? With books becoming more obsolete than records and all things becoming digital & visual, Team FaderPRO convinced Bill Gordon to sit in front of a few HD cameras to reenact this "book" into his own,"Feature Film"!
There was no script, there were no practice rounds or dress rehearsals, there was simply the FaderPRO team turning Bill's studio where lies his princess Steinway piano into a Hollywood setting and within a few hours and one take later, Music, No Theory Level 1  was formed!
As a skeptic, but also a witness to all of the above, I thought: "There is no way this is going to work, we are teaching people how to play the "Good Morning To All" song, who in the heck is going to see that as valuable?" As calm, cool & collected as he is, Bill brought his genius to ingenious by sayiing, "Do you know that the same keys we just learned in the "Good Morning to All" song are the same keys used in thousands of Hit records of the past and today?" I of course, made him prove this to me,  which he did with a smile and his typical exclamation point "Told you mother f****r."
The stage was set and it was obvious we were dealing with a guy that was the Michael Jordan of his craft so we continued rolling as the footage and teachings were so great that we decided to do a Part 2 and really get down to taking "Music" (not Theory) to an even deeper level. "Take 2″ we called it, but it was yet again another three hours of pure brilliance and in the end we had, "Music, No Theory" Level 2.
Music, No Theory was and still remains an instant Hit and flew off the shelves at FaderPRO.com as a DVD and digitally as a download at Beatport's, Sounds To Sample. With FaderPRO already having courses "The Art of the Remix" a remixing tutorial with Logic Pro and "Are You Able" an Ableton Live tutorial & course selling in the marketplace, it was 100% the effect of "Music, No Theory's" sales on Sounds To Sample that catapulted FaderPRO to complete last year as a Top 15 earner with them after just a one year of business
From new to advanced, the feedback has been incredible. Below are some actual testimonials of the incredible evidence of how this course has created instant success throughout the recording industry!
Pick up your copies of all FaderPRO courses at www.FaderPro.com or download the courses at www.SoundsToSample.com
Testimonials
I've been making music since I was twenty years old but I never got deeper in the knowledge of harmonies out of pure boredom, but how you taught this course was both entertaining & fun. After one evening I had worked through it all and was very happy that I found this course and can't wait for Level 2!! I am also interested in taking some one on one lessons with you Live in the studio. Next time I m in the USA maybe we could arrange a couple hours? That would be great. I'm a DJ and producer from Cologne, Germany. Thanks Bill!
Tocadisco (International DJ/Producer/Remixer) (David Guetta, Steve Aoki, Laidback Luke, Moby, Tiga, Pet Shop Boys, New Order) MTV Europe Music Award for Best Dance International
I'd always been on the lookout for a keyboard player to teach me practically instead of digging into books and score – this was not easy though – many won't teach without the written theory I ended up in two clicks on your "Music ,no Theory" series – I bought both Suddenly all the little tricks I'd picked up over the years made sense – and the beautiful simplicity of it all made me smile from ear to ear The series is perfectly executed , friendly ,exciting  and with every episode is like drawing back the curtains in the room to find yet another door available to me..
Freemasons (James Wiltshire) Grammy Nominated & #1 Billboard producer & remixer