Interview with Fedde Le Grand!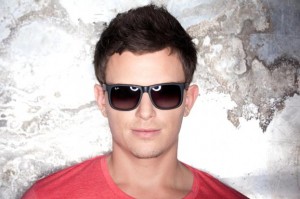 We find out about his new album, new compilation and what it takes to stay at the top
Having kicked off his career with a UK number one in 2006, the inescapable 'Put Your Hands Up For Detroit', which also hit the charts in Spain, Russia, Finland and Bulgaria, Fedde Le Grand set himself a high bar to top. But he's continued to push on, becoming one of the biggest DJs in the world.
In 2011 he rocked America's Coachella festival for the first time – a sign of his growing stock in the State – and had five Beatport number ones, a feat that he looks to be on the way to achieving again with the release of the vocal version of 'Sparks', his Nicky Romero collaboration featuring Matthew Koma, this week on Flamingo Recordings.
Following 2009's debut album 'Output', featuring Will.i.am from the Black Eyed Peas, Rob Birch (Stereo MCs), MC Gee, Mr V, Mitch Crown, Camille Jones and Ida Corr, he has number two on the way, plus a new compilation and a remix of Digitalism's 2007 Kitsune classic 'Zdarlight'. Not bad considering that he's also spend most oof his time touring the world and is resident at Ministry of Sound London, Pacha Ibiza and the global Sensation white parties.
We caught up with Fedde to find out just how he does it…
Your agenda for this summer is hectic to say the least. How are you coping so far?
"Loving it! It's definitely my busiest time of year but I love when the pedal is to the metal and you're in this summer season whirlwind playing at some truly epic events. Ask me again when October hits."
What was it like headlining Sensation?
"Incredible. It's such an unbelievable party and I'm really honoured to be a global resident this year again. I don't think that anyone who hasn't been to a Sensation can really understand just how immense these events are – the pictures and the videos really don't do them justice, and the pictures and videos are insanely good! To be right up there in the middle of everything and see a sea of white people in front of you going nuts to the music, it's on another level. I'm in Bangkok this month for the next Sensation and really looking forward to it."
How did it feel to have your set at Ultra Miami to be ranked one of the three best at the event?
"I'm honoured, but at the time I felt like there was something really special, the atmosphere was electric, the crowd were really up for it and I just did my best to give them a set to remember. For me it's really important to keep the music that I play fresh, original and banging. You only have one hour usually at events like Ultra so you have to make the most of it. I think long and hard about what tracks I'm going to drop, how the set is going to evolve, what I can do to push the envelope in such a short space of time and I'm really glad it worked out so well at Ultra. People pay a lot of money to come see us play and they, rightly, expect us to deliver."
What can we expect from your second album, and when can we expect it?
"I can't tell you too much about the album as it's still very much under wraps at the moment. What I can say is that we're looking to release it either at the very end of this year or the beginning of next. Of course that can change, so don't quote me on that."
Have any of your tastes, influences or approaches to music changed in the time between your first and second album?
"If you know me, you know that I am about progress, so this second album will definitely be a lot different than the first one. I've gone in more of a 'dance' direction than the first one, which had a lot of different influences on from funk all the way through to very techy electro."
'Sparks' is currently storming to number one on Beatport. Do you plan to do more work with Nicky Romero?
"It's doing incredibly well and we're both really happy with the success, especially because we haven't even released the vocal yet, so for the instrumental to go so high so quickly is a really good sign. The video is doing amazingly well too, we're getting an average of between 70-75,000 views every day! So we haven't reached the limit yet, there's still a lot more to come."
Do you have any plans to collaborate with your 'protégée', Danny Avila in the near future?
"It's definitely on the cards at some point, I'm sure. He's an amazing young talent and incredibly dedicated and sincere with what he wants to do. He's put an extraordinary amount of work in to get where he is now, it's easy sometimes to forget that he's still only 17. There are big things to come from him for sure, he's going to explode this year.
How did your decision to remix Digitalism's 'Zdarlight' come about?
"That is actually pretty simple. I still remember the first time I heard it, I was out in Australia at a festival. It's been one of my favourite tracks ever since and I just love to take an old record every now and then and mix it into a current playable version."
Your 'Takeover' concept has proved a huge success. Where do you plan on taking it – what does the future hold?
"We are thinking of some really cool concepts but if I told you what they were I'd have to kill you!"
What can you tell us about your new compilation project?
"I'm still working on it right now, but the plan is to have the compilation completely made up of extraordinary tracks, completely original. You will be very surprised, put it that way!"
You've already achieved a huge amount since you shot to stardom in 2006. How do you plan to keep raising the bar?
"For me, it's essential to keep learning and pushing all the time. Every year I take a look back on what's worked and what's not, then make sure that I learn from my mistakes and move things up a gear with what went well. I'm not someone who just sits back on past successes and is content to ride on those, I want to be constantly moving forward, constantly creating and bettering my work, pushing to open those doors that might have been closed to me a couple of years ago but are now right where I'm at. I'm a perfectionist and a hard worker which might mean I'm up all hours to make everything 'just so', but I think that's been one of the core reasons for my success so far."