Hed Kandi presents Ibiza 10 Years compilation
This summer Hed Kandi is celebrating their biggest Ibiza residency to date as we hit ten spectacular years on the White Isle. Launching a 17-week season of debauched fun and escapism, we proudly present our biggest release of the decade, Hed Kandi Ibiza 10 Years.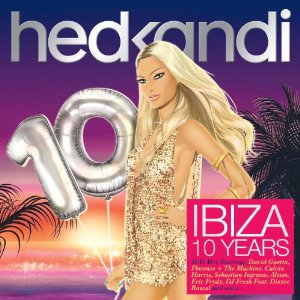 We return this year with a journey of true hedonism and to celebrate we have put together an immense tracklist showcasing the hottest Hed Kandi anthems handpicked from the dance floors. This album takes you on a musical journey from our Ibiza home of Es Paradis and our previous residencies at Space and El Divino over the past ten years, with Hed Kandi's biggest floor fillers and hands in the air anthems.
Hed Kandi Ibiza 10 years has the biggest tracklist to date showcasing global icons on the frontline of house music including A-list producers and artists such as Florence & The Machine, Avicii, David Guetta, Calvin Harris, Sebastian Ingrosso, Alesso, Eric Prydz, DJ Fresh ft. Dizzee Rascal and many more.
It is undeniable Hed Kandi's clubbing roots have thrived on the White Isle over the past 10 years entertaining clubbers with world class DJs bringing you the best hands in the air feel good house tunes. Release date: Jul 2, 2012.
http://www.hedkandi.com/
http://www.facebook.com/HedKandi
Tracklisting:
disc 1
1. Somebody That I Used To Know [Tiesto Remix] – Gotye
2. You've Got The Love [Mark Knight Remix] – Florence + the Machine
3. Levels – Avicii
4. The Power [East & Young Remix] – DJ Fresh
5. Rapture [Avicii New Generation Extended Remix] – Nadia Ali
6. L.O.V.E (You Give The) [David Jones Vocal Remix] – Patrick Hagenaar
7. Pressure [Alesso Extended Remix] – Nadia Ali
8. Silvia [Sebastian Ingrosso & Dirty South Remix] – Miike Snow
9. Teenage Crime [Axwell & Henrick B Remode/Remix] – Adrian Lux
10. Vice Moves (Let Me Go) [Vocal Mix/Remix] – Jonas Fehr
11. Diamond Life [Daddy's Groove Magic Island Rework/Remix] – Louie Vega
12. So Much Love – Fedde Le Grand
13. You Take Me Higher – Rogerseventytwo
14. Beachball [Joris Voorn Remix] – Nalin & Kane
15. Coma Cat – Tensnake
disc 2
1. I'm Not Alone [Extended Mix/Version] – Calvin Harris
2. Pjanoo – Eric Prydz
3. GRRR – David Guetta
4. Show Me Love [Bootleg Remix] – Steve Angello
5. In The Air [Axwell Remix] – TV Rock
6. Leave The World Behind – Axwell
7. Bromance [Avicii's Arena Mix/Remix] – Tim Berg
8. Man With The Red Face [Original Club Mix/Remix] – Funkagenda
9. Take Me Away (2009) [Out Of Office Remix] – Erire
10. Devotion – Bingo Players
11. One More Time [Chris Moody Remix] – Richard Grey
12. Shake It (Move A Little Closer) [Terrace Vocal Club Edit/Remix] – Lee-Cabrera
13. Needin U [DJ Wady Ibiza Remix] – Mark Brown
14. Calabria [Update Mix/Remix] – Rune RK
15. Hey Hey [DF's Attention Vocal mix/Remix] – Dennis Ferrer
disc 3
1. My My My – Armand Van Helden
2. Right Here Right Now [Freemasons Remix] – Fatboy Slim
3. Love Generation [Full Intention Club Mix/Remix] – Bob Sinclair
4. Uninvited [Club Mix/Remix] – Freemasons
5. So many Times – Gadjo
6. Put 'Em High [JJ's Club Mix/Remix] – Stonebridge
7. Most Precious Love [DF Future 3000 Mix/Remix] – Blaze
8. Strings Of Life (Stranger On My Own) [Full Length Vocal/Remix] – Soul Central
9. Make A Move On Me [Club Mix/Remix] – Joey Negro
10. Stand Up [Dennis Christopher Remix] – Wilder & Clarke
11. Let You Down [Extended Vocal Mix/Remix] – Hernandez
12. Let The Sun Shine [Original Terrace Mix/Remix] – Milk & Sugar
13. E Samba [Junior Jack Original Club Mix/Remix] – Junior Jack
14. Will I (Discover Love) – DJ Chus
15. Love Story [Tim Deluxe Remix] – Layo & Bushwacka!
Source: http://www.ministryofsound.com/shop/product/music/41352/hed-kandi-ibiza-10-years/