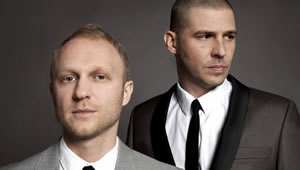 The Shapeshifters talk to The Student Pocket Guide back stage at Global Gathering 2009.
Thanks to the Student Pocket Guide for providing the content.
Biography:
The Shapeshifters are best known for their single "Lola's Theme" which went to #1 in the UK charts in July 2004. The track was originally released as an instrumental promo in 2003 and was inspired by Simon's wife, Lola. Their second single, "Back To Basics", was released in March 2005 and reached #10 in the UK charts while the third single "Incredible" reached #12.Their debut artist album, "Sound Advice", was released on in March 2006 and peaked at #76 before being released in the United States on Ultra Records in September 2006. The fourth single which featured Chic, was called "Sensitivity" and charted at #40 on July 2006.
In 2008, after 4 years with Positiva Records, The Shapeshifters signed to Defected Records. Since joining Defected they have released "Treadstone" in April 2008 and subsequently released "Chime", a re-work of the Orbital classic, in August 2008. In September 2008, The Shapeshifters released a 3xCD compilation CD on Defected. Entitled 'The Shapeshifters – In The House', this mixed compilation album was part on the well known 'In The House' series. In September 2008, The Shapeshifters also released "Lola's Theme (08 Re-Edit)". This was an originally an exclusive remix that The Shapeshifters used in their own DJ sets but due to major demand and exposure, this title was released as a digital download through their own Nocturnal Groove record label. Upon its release this title spent 7 weeks at #1 on the Beatport Sales Chart.
The Shapeshifters have worked on productions and remixes for the likes of George Michael, Faithless, Candi Staton, Frankie Knuckles, Christina Aguilera and Moby. In 2009, The Shapeshifters have worked with Empire Of The Sun and Kleerup remixing "We Are The People" and "Longing For Lullabies" and are also working on new material for release later in 2009. As DJs, The Shapeshifters continue to tour the world playing clubs and festivals. In 2009, they will be holding DJ residencies for Defected @ Pacha (Ibiza – Summer 2009) and at their long running party 'Nocturnal', which runs alongside their own Nocturnal Groove label