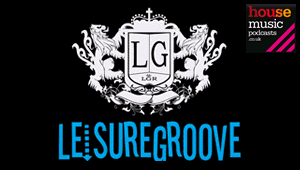 The team at House Music Podcasts were lucky enough to speak to Trevor from LeisureGroove and to ask him a few questions about his Dj Career! and what he has lined up over the next 12months.
To subscribe to LeisureGrooves offical podcasts on iTunes please click here
1. How did you first get into DJ'ing?
I first got into DJ'ing back in 1988 when I was 11 years old. I lived in a pub with my family, mum and dad would have lock-ins for the regulars at the weekend and I would play music in the back bar on the technics, trying to mix. It was a great time back then, listening to Fantasy FM, Chrome & Time, DJ Hype. They inspired me to teach myself how to DJ.
2. What was the first record you bought?
LFO by LFO on Warp Records back in 1988/89….. TUNEAGE
3. What have you been up to so far this year?
I've been keeping my head down this year concentrating on setting up my new studio and new label Digital Disco Records, ready to promote and release some fresh tracks this year. I've been working with some big artists this year, hopefully all the hard work will pay off.
4. How did you get your foot in the door?
My friend MC Vapour got me involved with Force FM when I was 17. I'd not long bought my first set of Technic 1210's, I refused to get involved with the station until I had perfectly mastered the art of mixing vinyl. Not long after I started playing on the station I started to get local club bookings and the rest they say is history.
5. What's the best memory you have from behind the decks?
DJ'ing in front of thousands of people at an Austrian Festival, watching them do the conga to dirty electro and throwing body paint at everyone (including me).
6. What was your longest ever DJ set?
10 hours at the Pre-party to the World Body Painting Festival in 2008 (back to back with Matt Emulsion).
7. What's your set up like at home?
Pioneer CDJ1000 MK3's with Pioneer DJM600 mixer and a set of technics SL1210's.
8. What advice do you have for any up and coming DJs?
Never give up on your dreams. Enough said.
9. Would you agree that you have to produce tracks now to get a name?
For me, yes. I reached a certain point in my DJ career, supporting big names and doing what I thought was well. My friend Mark Ryder from Strictly Underground Records told me I would never progress any further and never be one of those big names if I didn't make a name for myself producing tracks. Since then my studio has become my second home and I've never looked back.
10. What the largest venue you have played at this year?
Can't boast any big venues this year, I've helped out friends supporting local club events but my main focus has been on producing music in the studio every spare minute I get.
11. What's your most successful track you have produced so far?
I haven't released it yet!!! Seriously though, the most successful UK hit so far was Little Love which made the Hed Kandi compilation in 2007 and was play listed on Judge Jules Radio 1 show. Another hit, Fallen Angel featuring Sevi G made it big in Europe, it was signed to Lickin' Records and licensed to 9 European compilation albums, one of those the biggest in Austria. The track was remixed by Thomas Gold and Chris Ortega.
12. What in your opinion does it take to be a world class DJ?
Playing the right tunes at the right time, keeping the crowd interested with your mixing ability. Don't become just a beat mixer, step outside the box and do something brave with acapellas and loops, why play it safe with just 2 decks?!
13. What format do you use Cdj's or Vinyl? Also why?
Both but mainly CDJ's as we have to move with the times, don't want to be like my Dad refusing to let go of vinyl. It won't be long and CD's will be a thing of the past to, if Ableton have anything to do with it.
14. What are your top 5 tracks at the moment?
1. Chocolate Puma & Bingo Players "Disco Electrique" – (Vocal Mix)
2. Michael Gray and Danism Feat. Lisa Millett – "Say Yes" (Original Mix)
3. Tristan Garner vs Crystal Waters – "Gypsy Woman 2009" (Original Extended Mix)
4. "Miracle Of Love" feat Sheylah Cuffy (Dub Mix)
5. "Face The Music" – LeisureGroove (Club Mix)
15. What productions are you working on at the moment?
Just finishing off a track using a sample of Nat King Cole and another production with Angie Brown. Can't say too much, just watch this space…
16. What do you think of the house music scene in the UK at the moment?
Genres of house are always evolving but seemingly a lot quicker at the moment. The emerging new scenes of UK house are attracting a wider range of music lovers. For me I love the big main room sound and always will, for me the sound just gets better and better.
17. Where would you like to perform that you haven't yet?
SW4, Pacha (Ibiza, NYC), Bora Bora and Space, Chunnel Club (NYC).
18. In Your opinion who is the best DJ in the world?
ME! Haha. Best DJ for me was Mylo at Subliminal in Ibiza last year. Some of the tracks he dropped were brave but he pulled it off, he worked the crowd like a puppet master.
19. What do you do in your spare time?
What spare time? With a new studio, label and a baby due anytime soon my spare time is spent sleeping.
20. How do you think you're going to do in the Top 100 Djs competition?
I'd love to say I expect to even get a rating but I've been laying low for over a year spending time on my music. One day I hope to make it in the top 10 with some of the greatest.
To subscribe to LeisureGrooves offical podcasts on iTunes please click here