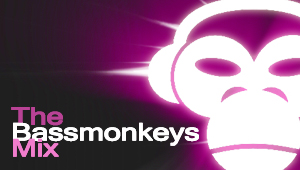 The team at House Music Podcasts were lucky enough to speak to the Bassmonkeys, and to find out what their plans are over the next 12 months. Big thanks to Danny, Dale and Mike!
Dont forget you can download some of the Bassmonkeys latests podcasts by clicking here!
Bassmonkeys Offical Showreel 2009 – Click Here
Bassmonkeys Press Pack – Download Here
For more information about the Bassmonkeys, please visit their website www.bassmonkeys.com
About The Bassmonkeys
Bassmonkeys have quickly established themselves as one of the world's most respected production & DJ teams.
Already responsible for over 40 remixes and 30 original productions, including a staggering 17 top ten club hits to date, Bassmonkeys are in constant demand from the largest club and pop record labels on the planet and have featured on numerous top selling compilations.
In a very short space of time, the boys have produced for and collaborated with some of the most respected vocalists in the game: Jocelyn Brown, Tara McDonald, Amanda Wilson, Andrea Britton, Crystal Waters, Abigail Bailey and CeCe Peniston to name but a few … the list continues to grow at a rapid pace.
Dale Askew is the front line producer for Bassmonkeys and is a naturally gifted sound engineer and studio wizard. Having honed his skills over the past 16 years he has a wealth of musical and production knowledge to call on. Whether producing funky, electro, bassline, or even pop, Dale always ensures that the quality levels and distinctive Bassmonkeys signature sound are in full effect.
As well as being a superb DJ, Danny Bond works closely with Dale in the studio. With his finger on the pulse of the club circuit, his executive production skills ensure that the finished tracks retain a killer dance .floor appeal. Danny is also a classically trained musician and his enviable keyboard ability and musical knowledge are regularly called upon.
Mike Chenery completes the trio and is a first class club DJ, touring with Danny as they tear up dance floors the world over with their rocking DJ sets. With over 25 years experience between them, these guys are consummate professionals, able to tailor their sets to the vibe of a venue and the mood of a crowd to keep everyone 'avin it' long into the night.
With the music industry now sitting up and taking notice, it's just a matter of time before Bassmonkeys achieve the national crossover success they deserve, and all eyes will be on them in 2009, as the lads have some very special projects planned that look set to propel them into the stratosphere.
Bassmonkeys – Purple Haze
1. How did you first get into DJing?
MIKE
I bought some cheapo belt-drive decks (mmmm, nice!) with a good friend of mine back in 1995. We set them up in my parents garage & went at it for hours on end. Started DJing at a few illegal parties through meeting other DJs at a local vinyl shop. A friend put on his own night & asked me to play – after which he asked me to be his monthly resident. It didn't last long but I did get to play at "Wobble" in Birmingham … very cool at that age!
DANNY
I got involved with the campus radio station at the University of Hertfordshire in 1994 and ended up spunking my student loan on a set of Denon DN2000 CDJs. After that I sold my soul for a pair of 1210s and gradually began picking up a few gigs in the local bars & clubs.
2.What was the first record you bought?
MIKE
Really couldn't tell ya. It would probably have been something like BLAST "Crazy Man" or something from that era.
DANNY
It was the theme tune from Fraggle Rock on 7″. Classic.
3.What have you been up to so far this year?
DANNY
The primary focus this year has been on production and promotion with Bassmonkeys main man Dale Askew spearheading the attack. Dale is an incredibly talented but humble producer. Remixes are our bread and butter and we've constantly got projects on the go for various labels and artists. Our remix of DJ ELLA "Shine Like a Superstar" has been selected by Positiva as the main mix on the package and so is now complete with a very cool video! We also have a string of original productions signed and awaiting release, including collaborations with our close friends at Audiofreaks – Soulshaker and the Stereojackers.
MIKE
DJ wise we've had a few gigs – but we want more! (nudge nudge wink wink) Fierce Angel @ El Divino in Ibiza has been the highlight without a doubt.
4.How did you get your foot in the door?
MIKE
By kicking it really bloody hard

)
5.What's the best memory you have from behind the decks?
MIKE
There's been so many – just playing alongside all the big names really, people like Judge Jules, Boy George, Sonique, Danny Rampling, Stonebridge … etc … I remember one so called big name guest (who shall remain nameless) clearing the floor at a club called Manhattans where I was resident. I went on after them and seriously rocked it! That was pretty memorable. A recent gig we did in Norwich was amazing … great crowd, great sound & a perfect Bassmonkeys set

)
DANNY
Similar to Mikey really. Those times playing alongside the big names were when I realised that this game is as much about who you know as what you know. Clubs should look after their residents because they're every bit as valuable as the big name guests. In fact, more so in many ways. I do have a funny story from a gig I did at Rumours in Clacton several years back. Boy George was headlining. Apparently, whilst I was bending over looking through my record box, Mr George sidled up behind me and pretended to slip one in (as it were). That's my claim to fame – I was almost bummed by Boy George. Beat that.
6.Longest ever DJ set?
MIKE
The seven hour marathons we used to do at a club in Norwich back in the late nineties. Two or three hours is plenty these days!
DANNY
On the flip side though, I can't understand these promotors who have a huge DJ line-up with each DJ only getting an hour or less. How can anyone possibly craft a set in so little time? Pointless.
7.What's your set up like at home?
MIKE
I've got a pair of Pioneer CDJ400s with customised Bassmonkey deck plates and a Pioneer DJM600 mixer.
DANNY
The Bassmonkeys studio is at my place and most of my money goes on production hardware and software. As a result I currently only have a basic DJ setup with some Numark Axis 9 CDJs and a cheap Vestax Mixer (yeah I know, boo hoo, get the violins out). The new Pioneer CDJ2000s with the RecordBox software look very tasty, but in my opinion Pioneer take the piss with their pricing structure because of their status as the industry standard. Also, the number of venues we've been too where the CDJ1000 MK3s have been f***ed (cue button screwed or pitch lock all over the place) is absurd – expect more for your money people! Denon make some wicked fully-featured decks like the DNS3700 for half the price of the Pioneers.
8.What advice do you have for any up and coming DJs?
MIKE
Practice, practice, practice and then go practice some more. Get your name out there and be nice to the right people.
DANNY
… in fact, just be nice to everyone! There are so many cocky arseholes out there – be confident without arrogance and keep your head up, it is all about the crowd reaction. Always play for them, not yourself.
9.Would you agree that you have to produce tracks now to get a name?
DANNY
Not necessarily, but it definitely helps. Gone are the days when only a few people were DJing – everyone is at it these days, so having extra strings to your bow can only be good in the long run.
MIKE
Unfortunately it does seem like that. We were getting very few gigs until the remix work started to flood in. We're still waiting for that one big crossover hit to take us to the next level. When it does, I guess we'll find out ;o)
10.What the largest venue you have played at this year?
El Divino, Ibiza.
11.Who is your idol in the DJ world?
MIKE
Back in the day it was Tony De Vit, his passion & energy were amazing. Today I'd have to say my partner, Danny "Buzz" Bond … LMFAO

)
DANNY
Ha ha, yeah very funny, cheers buddy! Feelings mutual darling

) I am always impressed with DJs who take full advantage of today's technology, and for that reason I think James Zabiela and Eddie Halliwell are great.
12.What in your opinion does it take to be a world class DJ?
MIKE
The ability to create a vibe and keep the dancefloor throughout your entire set – knowing exactly which tracks are gonna work with that crowd and playing for them, not yourself.
DANNY
Amen to that brother! What he said.
13.What do you use format do you use Cdj's or Vinyl? Also why?
DANNY
We've moved completely to CDJs over the last few years simply due them being the industry standard – most venues don't even have vinyl decks anymore or if they do they've not been looked after or there are no carts. We've toyed with Stanton Final Scratch and similar technology in the past but the fact is that it's a pain in the ass to set up and some venues just don't have the capacity for it.
MIKE
Yeah, being able to buy, download and burn tracks to CD is so simple. With CDs you know you can just turn up and play. As producers it's great to be able to burn your own stuff to CD too.
14.What are your top 3 tracks at the moment?
1. BASSMONKEYS FT. JD ROX – "Bad 4 My Health"
Sorry, shameless self-promotion!
2. PHATTS & SMALL – "Turn Around" (Free Motion Remix)
Fantastic new mix from Free Motion – drops like a bomb.
3. MR DYF FT. SHENA – "Hold On" (Freemasons Remix)
Freemasons have the midas touch. Another outstanding (OUTSTANDING! – sorry private joke) remix from them.
15.Who would you most like to play back 2 back with?
MIKE
Freemasons please!
DANNY
Yeah baby – I reckon they'd be up for some 4 deck action with the monkeys – ahahahahaaaaaa! I'd die a happy man.
16.What do you think of the house music scene in the UK at the moment?
DANNY
It's shame it's become so fragmented to be honest – it's no longer one scene, you've got all the individual genres and sub-genres competing with one another.
MIKE
We're loving the funky house – what there is of it. Absolutely hating all this electro-by-numbers stuff and really think that proggy house has run its course too – all just sounding a bit too samey. Long live funky house music – it's been around forever and always will be.
17.Where would you like to perform that you haven't yet?
DANNY
Anywhere with a passionate, up for it crowd.
MIKE
We've been incredibly unlucky with international gigs falling through at last minute! We should have done Australia, Dubai, Moscow & Brazil in recent months. Rumours abound of a potential mini-tour of Australia though … watch this space.
18.In your opinion who is the best DJ in the world?
MIKE
What a question, errrr …. whoever played the best last? There are so many great DJs it would be rude to single one out above the others.
DANNY
… I hear that that Tom Upton fella is pretty formidable though. (Cheque made payable to Mr D Bond please.)
19.What do you do in your spare time?
MIKE
I have 2 beautiful little daughters who keep me busy when I'm not doing the monkey thing! Love films & getting it on with the Playstation 3.
DANNY
Same here really, all three of us monkeys each have two little ones who take up most of our spare time. I'm big-time into films, gaming, football and recently got hooked on SCUBA. I'm quite a thrillseeker too, Sky Diving and the like.
20.Have you entered the Top 100 Djs competition?
MIKE
Don't think so? Sort of ….. we may have one vote (thanks mum!)
DANNY
Ha ha, I don't think we're quite there yet! Maybe next year …