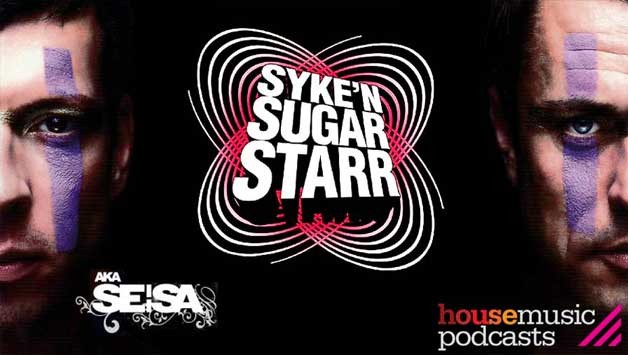 Syke'n'Sugarstarr
Published On February 16, 2013 |
Artists
Syke'n'Sugarstarr – the name is synonymous with pure house music. Since the late 90s the duo has crafted a whole series of worldwide club hits, firmly establishing them as top producers and DJs. In the dance scene they are renowned for their knack of setting new trends.
As well as a host of their own tracks, S'n'S have produced or remixed songs for numerous local and international acts over the past decade. They were behind the Disco Boys' megahit "For You" (which recently attained gold status) whilst Mousse T, Armand Van Helden, Incognito, Michael Gray and Barbara Tucker are among the many artists to have called upon the services of Syke'n'Sugarstarr. S'n'S have certainly left their mark on the music industry – as a look at the list of labels they work with clearly demonstrates: Ministry Of Sound, Positiva, Universal Music, Subliminal, Soulfuric, Swingcity, Southern Fried, Peppermint Jam and ,last but most definitely not least, Kontor Records. Germany's leading dance label has signed an exclusive deal with Syke'n'Sugarstarr.
As DJs the world has seen them playing all over the globe. From Miami to Sydney. From Hong Kong to Bogota. From London to Moscow. Syke'n'Sugarstarr always providing DJ-sets which combine their very own productions and exclusive Edits they worked on, as well as the hottest new tracks the clubworld wanna dance to. Under their moniker SE:SA, headed by Serhat Sakin, the single "Like This Like That" (feat. Sharon Phillips) has been picked by Postiva Rec. UK and set the world's dancefloors alight. Previewed at the Miami Winter Music Conference'07 the tune went on to be one of the biggest anthems last and this year. SE:SA recently stormed into almost every UK Dance Charts at 1 with this tune, enjoying support from the likes of Pete Tong, David Guetta or Bob Sinclar.
Last year Syke'n'Sugarstarr were responsible for one of the biggest house tracks of 2007 – 'DANZ', also supported by all top dogs in the DJ-scene. And back into 2006 they released the Shakatak Cover "Are You Watching Me, Watching You" (feat. Alexandra Prince), which was signed to labels in 10 different territories worldwide and left numerous top-chart-positions. The first Syke'n'Sugarstarr album was released as long ago as 2004 – "Best Of Syke'n'Sugarstarr", a compilation of their finest productions and remixes. The tracklisting featured smash S'n'S hits like "Ticket 2 Ride" (Tikke Tikke, Ride Ride), "Release Your Mind" and "Can't Stop" as well as Gadjo's success "So Many Times", which Serhat (aka SE:SA) co-produced. The most striking aspect of Syke'n'Sugarstarr is how fresh they sound – their experimental blend of funky house and percussive tracks with an elektro flavour works wonders in the studio and on the dancefloor. True to their motto "back to the roots of house" S'n'S are pioneers of exactly the sound we have been waiting for.
Websites:
http://www.syke-n-sugarstarr.com
http://www.facebook.com/sykensugarstarr
http://www.myspace.com/sykensugarstarr
http://www.myspace.com/sugarstarr2007