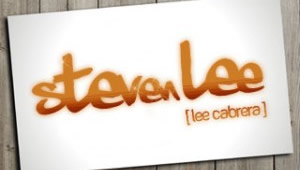 Steven Lee
Published On February 16, 2013 |
Artists
"Give Steven Lee 5 minutes and he'll have the place upside down….." (World Famous "GURU DISCO"-VALENCIA, SPAIN)
Sort of how it's been for this NYC youngster. One half of the massive Lee-Cabrera team who's 2004 "Shake It" record sought record of the year honors and champed a #10 National Pop Chart Selection with "Shake It" (Move a Little Closer). Signed with Ministry of Sound world-wide and a regular on Pete Tong's Essential Selection Steven Lee (Lee-Cabrera) in his short 5 years has tasted about all this business can offer. With regular visits every weekend to Spain, Russia, Australia, China (to name a few) Mr. Lee aims high for the future. Now on his own and taking a hiatus from the Lee-Cabrera name Steven Lee is finding his own creative ear in the studio both solo and together with other top artists in the industry. "Seems like yesterday it was "Shake It", now 5 years later and touring all over the planet its time to get back in the studio and achieving even bigger things on my own, Lee explains."
With a hit record comes an anniversary and this year Lee Cabrera –vs- Thomas Gold got a revisit and ended up going #1 on Beatport. Now with a Tara Mcdonald vocal and a special Steven Lee & Vincent di Pasquale remix to add to the bunch, this record seems that it will never go away and why should it? Support from Radio 1, Kiss, Galaxy and all the A-listers and a full release from CR2 for this fall.
"To get the future we have to take a look at the past…….. !"
Steven Lee received his first taste in the business at the infamous Strictly Rhythm, and it wasn't long before Mr. Lee found himself a home with the label both as a DJ mixing their famous compilations but also as a signed artist at SR with the legendary Albert Cabrera forming the Lee Cabrera tag. "X surly marked the spot" with these two producers, as their first original production, "Shake It" (Move A Little Closer) was the #1 hit and a 2004 bomb still recognized as one of the biggest records in dance music today!! Its classic piano hook and ridiculous energy can be still be heard all over the world today, especially with the 2009 version which has breathed a life we can all appreciate to this classic tune. Licensed to over 15 different territories across the globe and to over 50 compilations "Shake It" was even awarded the honors at the World Music Awards as it was licensed for their theme song in 2004. From there the work just continued with follow up's like "Special", Phase 2 "Voodoo Love", Exhibit A "G-Minor" and "I Watch You" for Ministry of Sound.
"Turning The Page in 2008" as he calls it, Lee attacked the studio and turned out 10 new singles with the first of the bunch being signed to premiere European labels. "Exit Row" a Pete Tong favorite went to CR2 while "Me, You & Space" (a monster that attracted over 7000 hits in 3 days on his MySpace page) and now with a Sam Obernik vocal sees light from the legendary Azuli. A killer remake of Asia "Heat of the Moment" that has 'crossover' written all over it has just been signed to the infamous PACHA brand label and a result Pacha has just signed Lee for a multi-record deal picking up two more of his singles "Fly Catcher" & "Bicep" both seeing great light on all the star packed Pacha albums.
With successful original work comes even more successful remix work. Steven Lee has seen over 40 remixes to date with records like "My Time"- Crystal Waters, "It's Up To You" – Layo & Bushwacka, "Safe From Harm" – Narcotic Thrust, "Stars"-Morjack, "Rosa Blu"-Planet Funk, "Plastic Dreams" Jaydee, "Bang Bang"- feat Nancy Sinatra Audio Bulleys, "Big Love"- Pete Heller, "The Rub"- Kurd Maverick, "Fly Life"-Basement Jaxx, "Mothership"-ATFC and "Not Enough"- Roger Sanchez.
To add to his already busy schedule Steven has finally launched his new company Fader Pro (www.FaderPro.com). What was once just a creative idea has now turned into one of the most regarded audio Internet companies around, with recommendations from SAE (School of Audio Engineering), Euphonix, Jimmy Douglass (engineer for Timbaland, Missy Elliot, Justin Timberlake, Nelly Furtado) and Dirty Vegas, to name just a few. "Giving people an inside glimpse to what we do in the studio and showing them exactly how its done, and allowing them to then focus on being creative, is the goal for us at Fader Pro". The first course "The Art of the Remix" can be found on the Fader Pro site in both DVD and streaming formats.
Notorious for his 'on the fly & risk taking' style of Djing, Lee has found himself at the forefront of some of the biggest clubs in the world and a feature on many YouTube links. His infectious technical and stand out style has earned him the nickname "Baby Morillo" by many of his followers. "I consider myself a better DJ than I am a producer, I love the big show and love twisting a few thousand people up in knots and causing mayhem on the dancefloor". "It's my job to make em dance and I like to think there's always going to be a party when I'm at the helm." Lee has just finished his first full Ibiza season with residencies at Space & El Divino and was called to play the opening of "Super Club" Privilege. You can find him at the Terrace at Space next year as well, as he has already signed with Space to continue the madness!
Stay Tuned!