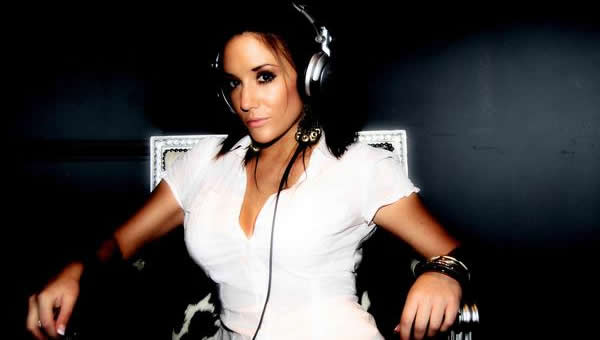 Hayley has always had a passion for a variety of house music, it was only a matter of time and practice before she decided that becoming a DJ / Producer, singer and songwriter was her ultimate ambition.
Hayley plays all different styles of house, driving vocal, tribal, progressive house and tech house. Gaining residency's at some credible nights is now the norm for this talented young DJ. This has earned her credibility and respect in the scene so far. She has already been involved in some great nights playing for Flawless and UK House Mafia at Koko along side Nick Bridges, Funkagenda, Seamus Haji and Bora Bora's Gorden Edge and Gatecrasher Leeds. Most recently returned from Ibiza where she played Es Paradis for 'Pukka up', numerous boat parties including 'Audiodamage gets charged', 'Pukka up' , 'Charlies Angels', and the newest club in Ibiza Boho for 'Miss Moneypennys'. Hayley shows no sign of slowing down with offers coming in from all over the world 2009 is already proven to be a busy year. With loads more in the pipeline and bookings coming in everyday from all over the world she shows no signs of stopping. She has recently returned from playing at the underground club Q in Switzerland, France, Germany and China and is looking forward to returning to Pacha in Moscow.
BCM Mallorca was and always is an experience and no doubt she will be back next season. Also check out her regular podcasts on www.perfectdj.co.uk
Hayley has a residency for "Miss Moneypennys" "Creamfields" and 'Flawless London'. Other credits include, Gatecrasher, Freque, Kinky Disco, Word of Mouth, Pukka up, Audiodamage, UK House Mafia and many independents around the UK and Nikki Beach where she played during the Miami Winter Conference 09.
Hayley has now been signed to a brand new management company 'Deep In Music' which has some heavyweight players in the music and touring scene behind it's doors and will be bringing her own music to the dance floor disciples along with some high profile remixes. Hayley has been getting more and more into production. Playing the piano from a young age and being vocally trained it was her wish and ambition to get in the studio, the next exciting challenge. The strengths of Hayley's talents are shown by her ability to adapt and work well with other artists, she recently sung the vocals for Alex Kidd's infamous Kidstock theme tune 2009 which has had multiple plays on Radio One, BK's remix being the most prefered. Hard style is not normally her style but enjoyed trying out different techniques and demonstrates her diversity and enthusiasm for trying out new projects.
Her first track 'Sancutary' has already been signed to Miss Moneypennys and should feature on their summer album very soon. She has remixed 'Catch' the Kosheen track it has been given an electro feel to it that is ear friendly for crossover dancefloors. The newest in her productions are 'Normal Life' and 'Changing lanes' which have already been played at Judgement Sundays in Eden in Ibiza this summer. Most importantly to look out for is 'The girls of Miss Moneypennys' Album that is being Launched this summer, Hayley has mixed one cd on the 3 cd complation album showing her more techy side to house.
DJ Hayley Parsons is going to be a household name for a long time and will certainly shake things up around the globe. Watch this space for up coming news, tracks and gigs.
Check out the rest of her dates to find out where she is playing, and for bookings please use the contact details provided. Her website will be up and running shortly so keep an eye out for updates 🙂
Music Played
Progressive / Electro / Tech